Page 1 of 2
John Frusciante is the guitarist for the funk rock band, Red Hot Chili Peppers. He has also made a number of solo records. If you want to know how he gets his funky guitar sound, read further.

John uses has used a wide range of guitars throughout his years with RHCP and as a solo artist. He is known for using a lot of guitars under the Fender brand. Below is a list of equipment that John has reportedly used through the years.

Let's look at what gear and equipment has been seen in the Red Hot CHili Pepper's John Frusciante's Guitar Rig.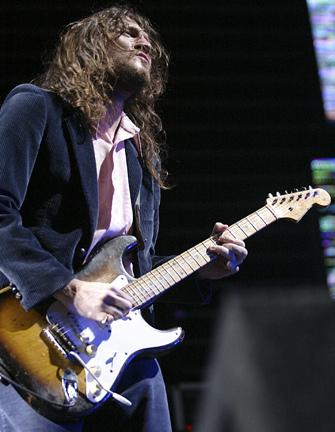 Click the gear images for more info & specs at Guitar Center and Amazon

Guitars
- 1962 Fender Strat (sunburst. well worn, Seymour Duncan SSL1 pickups) (John's main guitar, he adores it)

- 1955 Fender Strat with a maple neck (sunburst, Seymour Duncan SSL1 pickups)
- 1961 Fender Stratocaster (fiesta red, Seymour Duncan SSL1 pickups)

- 1963 Fender Stratocaster (white)
- 1963 Fender Telecaster (sunburst)

- 1955 Gretsch White Falcon

- Taylor 314ce Acoustic (for Venice Queen)

- 1960's Fender Jaguar (for warmups) and other Jags

- 1961 Gibson Les Paul SG Custom

- Gibson Les Paul Black Beauty (for a cover song called Black Cross)

- Vintage Gibson ES-175
- Fender Mustang(s)
- 1961 Rickenbacker
- Martin acoustic Guitars (two 0-15s and a 0-18)
- Australian Maton acoustic (submitted by user Saul)
Amps and Cabinets
- Marshall Silver Jubilee 100W for his "crunch" channel (similar to the 2203 pictured below)
- 200W Marshall Major (clean sound) (KT 88 tubes)
- Marshall 1960's (A and B) cabs


- 1965 Fender Reverb head


Effects
- Boss DS-2 Turbo Distortion
 - Boss CE-1 Chorus Ensemble
- Boss FV-50 Volume pedal
- Boss Master Switch (the red one)
- Digitech Whammy pedal

- Digitech PDS-1002 Digital Delay (2x)
- Dunlop Dimebag Custom CryBaby Wah pedal

- Electro-Harmonix Big Muff Pi
- Electro-Harmonix Electric Mistress Flanger
- Electro-Harmonix English Muff'n
- Electro-Harmonix POG Polyphonic Octave Generator
- Electro-Harmonix Holy Grail Reverb
- Ibanez WH-10 Wah (2x)
- Line 6 FM4 Filter Modeler

 - Line 6 DL4 Delay Modeler
- MXR Micro Amp (2x)
- MXR Phase 90 (Frusciante used to use)
- Moog MF-101 Low-Pass Filter
- Moog MF-102 Ring Modulator

- Moog MF-103 12-Stage Phaser

- Moog MF-105 and 105B Bass MURF pedals

- Moog CP-251 Control Processor

- Obi-Wah
- Zvex Fuzz Factory
- Boss DM-2


Strings, Picks and More
- D'Addario XL .10s-.046 (with a .11 on the high E string)
- levy's strap (mss8 is the model)
- Orange Jim Dunlop Tortex 0.60mm picks
Go to the next page for awesome pictures of John Frusciante's Guitar Rig