Page 1 of 2
Vernon Reid is a guitar player who was in one of the all time best bands, Living Colour. Vernon Reid is probably best known for leading Living Colour. Vernon founded Living Colour in New York City circa 1985 and piloted the band through a remarkable career. Vernon has also released solo albums and played guitar with other musicians. Vernon has always been known to have a cool guitar gear setup and rig. Let's take a look at some of the gear and equipment that has been seen in Vernon Reid's Guitar Rig.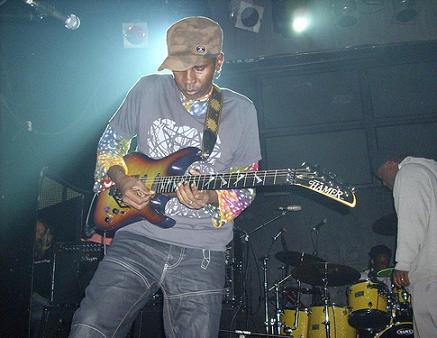 Click the gear images for more info and specs at Guitar Center and Amazon

Guitars
- Parker Guitars Dragon Fly Vernon Reid Signature Electric Guitar
- Hamer Chaparral Customs with Roland GK-3 Divided Pickups

- Brian Moore guitars
Amps and Cabinets
- Bugera 333XL amplifier heads with 4x12 cabs. Also 333XL combo. (used on The Chair in the Doorway album)
- Crate BV300H amp heads
- Crate BV412ST 4x12 Cabinets
- Crate VFX5212 2x12 Cabinets
- Fender Twin Amp
- Krank amp, Marshall, and vintage Fender Deluxe Reverb amps (used on "That's What you Taught Me")


Effects
- Roland VG-99 V Guitar System (controlled with an SP300)
- Roland GR-20 Guitar Synth



- Digitech XP-300 Space Station
- Line 6 FM4 Filter Modeler
- Ernie Ball volume pedal

- Ebtech HE2PKG Hum Eliminator

- Boomerang Phrase Sampler

- Muse Receptor VST Plug-In Player
- Apple iBook
- Propellerhead Reason software
- Native Instruments Absynth software
- Ableton Live software
- Moog pedals
- Eventide ModFactor
- Eventide Pitchfactor
- Pefftronics Rand-o-Matic
- Axon 50 Interface (to control soft synths on an apple laptop)
Strings and Picks
- D'Addario EXL115 gauged .011-.049
- Dunlop Jazztone 208 picks
Go to the next page for some pictures of Vernon's guitar rig.