Page 1 of 2
Joe Satriani is one of the guitar gods. We thought it was only right for us to do some research into what guitar gear rig Satriani uses (and has used). We gathered some good pictures from the internet of his guitars, amps, and effects. Enough talk, let's take a look at what guitar gear and equipment has been seen in Joe Satriani's Guitar Rig!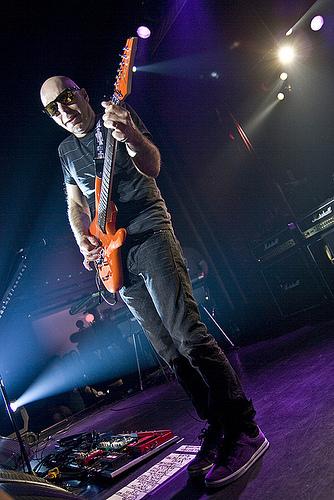 Click gear images below for more info & specs at Guitar Center and Amazon



Guitars
- Ibanez JS-2400 Joe Satriani Electric Guitar - in White (one of his main guitars)  and JS2410 models
- Ibanez Joe Satriani Signature JS1CR
- Ibanez JS-1000 and JS-1200 Signature Electric Guitars - Candy Apple Red


- Ibanez JS100 Joe Satriani Electric Guitar (this is his budget model)


- Ibanez Prestige Joe Satriani 20th Anniversary JS20TH Electric Guitar and also the JS20 budget anniversary model
- Ibanez JSA10 and JSA5 Satriani Acoustic guitars (black)
- 1948 Martin 000-41 (used on "Littleworth Lane" recording)
- Ibanez double neck electric guitar
Amplifiers and Cabinets

Notes: Satch was using Marshall amps until he got his own custom line of Peavey amps. Now in June 2009, it was announced Joe would be back with Marshall for the Chickenfoot tour.
- Marshall JVM410HJS Joe Satriani Tube Guitar Amp Head

- modified Marshall JVM410H amplifier heads - modded by Santiago Alvarez

- Marshall 6100 Anniversary Head (past)
-Marshall 1960B 4x12 Straight Cabinet (Celestion 25W)

Peavey Gear:
- Peavey JSX Joe Satriani Signature Head and JSX 212 Combo amps
- Peavey JSX 412 Cabinets
- Peavey JSX Mini Colossal amp



Effects and Accessories
- Dimarzio Joe Satriani guitar pickups

- DiMarzio FRED Pickups (past)
- Planet Waves Joe Satriani Signature Guitar Straps

- JS Signature Guitar Picks

- Vox Satchurator distortion pedal
- Vox Joe Satriani Big Bad Dual Wah
- Vox Joe Satriani Time Machine pedal
- Vox Ice 9 Satriani Overdrive pedal
- Vox Joe Satriani amPlug Headphone Amp
- Boss CH-1 Super Chorus
- Boss DD-3 Digital Delay
- Boss DS-1 Distortion (Keeley mod)
- Boss OC-2 Dual Octave

- Boss BF-3 Flanger
- Boss PS-5 Super Shifter Pedal
- Digitech WH-1 Whammy Reissue Pedal

- Fulltone Ultimate Octave Fuzz/Octave
- Groove Tubes Fat Finger Guitar Sustainer
- Chandler Digital Echo/Delay  
- Electro-Harmonix POG (the micro POG has been seen on his Chickenfoot board also)
- Voodoo Lab Pedal Power (uses both AC and 2plus)
- Whirlwind selector

- Rocktron Banshee

- ZVex Ringtone
- Ibanez FL9 Flanger (seen on his Chickenfoot pedalboard)
- Voodoo Lab Proctavia

- Roger Mayer Voodoo Vibe
- Digitech 33B Units
Strings
- D'Addario EXL120 Electric Guitar Strings
- D'Addario EJ16 Phosphor Bronze Acoustic Guitar Strings
Recording
Notes:There is an interview on modernguitars.com in which Joe mentioned some of the gear he uses in the studio.
- Palmer Speaker Simulator
- Millennia Media STT-1 Mic Pre / frontend
- Universal Audio LA-2A Limiter

- Universal Audio 1176 Compressor
- Pro Tools at 96k 
- Yamaha NS10M monitors
Go to the next page for awesome pictures of Joe Satriani's guitar rig!