Joe Perry from Aerosmith does it all...play guitar, makes his own hot sauce.... Joe Perry has been a long time user of Gibson Les Pauls. He has quite a guitar collection and his custom Les Paul is really hot. Let's take a look at what guitar gear and equipment has been seen in Joe Perry's Guitar Rig (the equipment from past and present).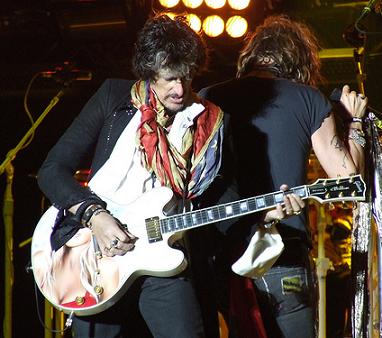 Click gear images below for more info & specs at Guitar Center and Amazon

Joe Perry said in an article that he has about 600 guitars. We'll just list some of the sweet guitars he has in his collection.
Guitars
- Gibson Joe Perry Boneyard Les Paul's
-Fender Stratocasters

- Fender '65 Telecaster

- Gibson ES-335 with Bigsby
- Ampeg/Dan Armstrong Plexi Guitar (tuned to open A)
- Guild 12-String Electric
- Gretsch Black Falcon
- Fender Reissue Telecaster
- Ernie Ball/Music Man Silhouette 6 String Bass
- Chandler Lap Steel
- Gibson ES-335 (custom painted with his wife's face on body of guitar)
- Gibson Firebird VII

- Fender Telecaster w/B-Bender

- Supro Ozark (mid 50's)
- Gibson Jeff Beck Les Paul
- Gibson Les Paul Standard
- Gibson Les Paul Junior

- Gibson Les Paul Custom

- Gibson SG

- Gibson ES-175
- Gibson ES-350
- B.C. Rich guitars: Mockingbird and Bitch (70's and early 80's)
- Fender Bass VI
- Danelectro six-string basses
- Gibson EB-6
- Ernie Ball MusicMan six-string bass guitar
- Guild X100 Bladerunner (Walk This Way video)
- RS Guitars custom made "Bullets and Bones" guitar  (Lindy Fralin P90 and Joe Barden pickups)
- Gretsch Roundup
Amplifiers and Cabinets
- Marshall Plexi Heads ( '69 w/ KT66 tubes and '70 EL84 tubes)
- Marshall JTM45 Reissue amps (3 of them)
- Marshall 8x10 cabinet
- Fender Dual Showman Reverb with 2x15 cab
- Fender Bandmaster (3x10)
- Marshall Major 200 Watt Heads (1970 with KT88 tubes)
- Fender Tonemaster Head
- Wizard 100 Watt Head
- Marshall JMP-1 Preamp
- Marshall 4x12 cabs

- Vox 4x12 Cab
- Orange 8x12 cab
- Jet City JCA20 amp (used for his talk box live. Also used in studio)

- Friedman Dirty Shirley amps (5881 tubes)
- Budda Verbmaster combo
- Marshall Bluesbreaker '65 with 5881 tubes (4x10") ('62 pic below)

- Morris Mo-Joe (custom amps)
Effects and Accessories
Joe has said in interviews that he trys to use pedals that are true bypass. He has also said he takes out 200 pedals with him.
- Digitech Whammy Pedal

- Dunlop DCR-1SR Rackmount Wah and Dunlop Wah pedals
- Dunlop Hendrix CryBaby wah pedal
- Line 6 DL-4 Delay Modeler (used for a cleaner sound)
- Line 6 MM-4 Modulation Modeler
- Klon Centaur overdrive (the one in the brown case)
- custom made Heil Talk Box
- Electro Harmonix Deluxe Memory Man
- Chicago Iron Octavian
- Samson UR5-D Synth Wireless
- Pro Co RAT Distortion Pedal
- Custom Audio Electronics MXR Boost/Overdrive (seen 2009)
- Fulltone Ultimate Octave (seen on 2009 pedalboard)
- Electro Harmonix Holy Grail Reverb pedal (seen 2009)
- Electro Harmonix POG
- Fulltone Tube Tape Echo (seen 2009)
- Option 5 Destination Rotation Single (seen 2009)
- option 5 destination bump (another boost pedal)
- Boss DD-7 delay pedal
- Marshall 300 for slapback (on Somebody's Going to Get Their Head Kicked In tonight)
- Ernie Ball VP Jr pedal
- Bradshaw board
- TC Electronic Vortex Flanger
- TC Electronic Flashback Delay
- TC Electronic Hall of Fame reverb
- MXR Carbon Copy delay
- Duesenberg Gold Boost
- RJM Effects Gizmo
- Avid Eleven rack (used for monitoring)
- Shure ULDX wireless systems
Strings, Picks, and More
- Gibson Vintage Reissue .010-.046 Strings
-Dunlop Joe Perry Boneyard Guitar Slide
 - Royer R-121 mics have been used a lot on Aerosmith guitar cabs
- Pyramid guitar strings (when he can get them. 9-44 or 10-46 gauges)
- Dunlop 483 Classic Celluloid Heavy Guitar Picks (custom prints on them)
Interesting Joe Perry fact: He is left-handed, but plays the guitar right-handed.
Go to the next page for some awesome pictures of Joe Perry's Guitar Rig.
We are very excited - a very cool roadie who goes by guitartech on flickr, gave us permission to post some photo's of Aerosmith guitar equipment that he took. Check out guitartech's page . Click the pictures below to enlarge them fullsize in a shadow box.