Page 1 of 2
Steve Vai does it all - produces records, sings, composes, and best of all shreds on the guitar. If you haven't seen his signature Ibanez Jem guitar you need to - it is one pretty beast. Let's take a look at the gear and equipment that has been seen in Steve Vai's guitar rig. Nice guitar gear Mr. Vai!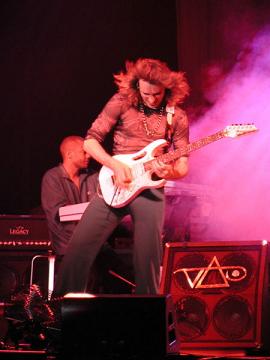 Click the gear images for more info and specs at Guitar Center and Amazon


Guitars

Ibanez Jem Guitars, including:
- Ibanez JEM7V Steve Vai Signature Electric Guitar
- Ibanez UV777 Universe Electric Guitar

- Ibanez Steve Vai JEM505 Electric Guitar

- Ibanez JEM77FP2 Steve Vai Signature Electric Guitar



- Ibanez JEM/UV Steve Vai Signature Electric Guitar

- Ibanez JEM-EVO Steve Vai Relic Signed Electric Guitar
Notes: Steve Vai helped design his signature Ibanez JEM series of guitars. They feature a hand grip (referred to as a "monkey grip") cut into the top of the body of the guitar, a humbucker-single coil-humbucker DiMarzio pickup configuration with several different brands of pickup including Evolution, Breed and EVO 2.
He also uses Ibanez's Edge locking tremolo system, as well as an elaborate and extensive "Vine of Life" inlay down the neck. Steve also equips many of his guitars with an Ibanez Backstop, a tremolo stabilizer that has been discontinued. Steve also has a 7-string model designed by him named Ibanez Universe.
- Vai has been trying new necks from a Swedish company called True Temperment. One neck on FLO and one on EVO, his two fav guitars
- Ibanez Euphoria Steve Vai All Solid Wood Signature Acoustic-Electric Guitar

- Ibanez Euphoria Steve Vai Signature Acoustic-Electric Guitar (lower cost version)

- Jackson Guitars (Vai only used these for a couple years back when he was endorsed)
- Gibson SJ-200 Acoustic guitar (end of 2011)

Pickups
- DiMarzio Gravity Storm Steve Vai Signature Pickup



- DiMarzio Steve Vai Evolution Pickups
Amplifiers
- Carvin Legacy II Steve Vai signature amps
- Bogner Ecstasy amps

Effects and More

- Fractal Audio AXE-FX Ultra (started using in 2010)
- Ibanez Jemini Dual Pedal
- Boss DS-1 (Keeley modded)
- Ibanez Tube Screamer TS-9 (Keeley modded)

- Morley Bad Horsie Steve Vai pedals
- Morley Steve Vai Little Alligator Volume Pedal

- Digitech Whammy

- MXR Phase 90
- TC Electronics G-System
- Peterson Strobostomp Tuner
- DiMarzio Steve Vai Signature Guitar Cable

Strings

- Ernie Ball Cobalt strings
- Ernie Ball RPS9 Slinky Custom Gauge guitar strings
- Ernie Ball Regular Slinky guitar strings

Picks
- Steve Vai has a bunch of custom signature guitar picks. They all are size 1mm thickiness.

Interesting facts: Over his long musical career, Steve Vai has used and designed an array of guitars. He even had his DNA put into the swirl paint job on one of his signature JEM guitars, the JEM2KDNA, in the form of his blood. Wild eh! Only 300 of these were ever made. Nowadays he mainly uses his white JEM7V, which is inscribed with the letters "Evo", mainly in order to allow him to distinguish between the guitars he uses onstage which are practically identical, his "Flo" guitar however is equipped with a Fernandes sustainer pick-up in the neck.

He also has a guitar named "Mojo" in which the dot inlays are blue LED lights. Additionally, he has a custom-made triple-neck guitar that has the same basic features as his JEM7V guitars. The top neck is a 12-string guitar, the middle is a 6-string, and the bottom is a 6-string fretless guitar with a Fernandes Sustainer pickup. This guitar was featured on the G3 2003 tour on the piece I Know You're Here.
Go to the next page for some awesome pictures of Steve Vai's Guitar Rig