Francesco Artusato is a name you are going to hear more and more. Artusato currently plays guitar for the Nuclear Blast Records recording artist All Shall Perish while also continuing to work with a variety of composers and songwriters on other projects. In addition to all this, he contributes material to the Guitar Messenger website with his "Technical Difficulties" column, and has lessons on Guitar World and other great sites. When not playing with All Shall Perish, Artusato works on his own solo work, which includes a new upcoming release called "Chaos and The Primordial". Seeing that both Jeff Loomis (Nevermore) and Gus G. (Ozzy/Firewind) have marked Artusato as a shredder to watch out for, we knew we needed to do an interview!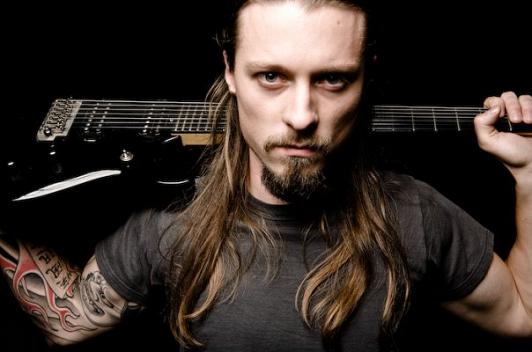 UberProAudio: Hi Francesco, thanks for the interview. We know you are a busy guy lately!

Francesco Artusato: It's been crazy! I've just been all over the US and Canada with All Shall Perish, then a small break and now I'm in Monterrey Mexico, just finished sound check, relaxing for a couple of hours at the hotel before the show. We are flying to Mexico City tomorrow, show, fly back to Oakland and then Europe right after. It's pretty insane but I love it.



UberProAudio: All Shall Perish announced you joined the band as their "new touring guitarist for the foreseeable future" (All Shall Perish MySpace). Tell us how you got involved with the band. How are things going?

Francesco: It was May when I got in touch with ASP's manager to audition for the band. Everything happened so fast! I sent them some videos, they flew me out, we spent some time together jamming, I guess they liked me…and then I got the phone call telling me they wanted me to play with them for the summer tours. We really got along touring throughout the entire summer and now I'm actually "IN" the band…for the future albums and tours…it's very exciting!



UberProAudio: You are an incredibly skilled guitar player. Tell us a little bit about your background. How long have you been playing?

Francesco: Thank you first of all. In the beginning it all started just listening to music and going to shows with my parents…mostly classical music and some rock. Then I started playing the saxophone when I was about 14 but it never felt like the right instrument for me, even though I love it. After a few years I finally started playing guitar…it was meant to happen! My cousin is a professional jazz guitar player in Italy and my brother was playing guitar too and had bands for a long time. So I've been playing guitar for about 11 years.



UberProAudio: What role did going to Berklee College Of Music have on you musically?

Francesco: Going to Berklee definitely changed my life. I grew up musically way faster and more intensely during those 3 years than I had the chance to do before that. It's almost inevitable! You get to experience music in such a powerful way…you live everyday's life surrounded by music, if you are not in class, you are probably jamming with some other students, at a show of some kind, doing your homework or working on your skills in a practice room or lab. I had the chance to study with some amazing musicians…performers and composers.



UberProAudio: You started the band Hiss of Atrocities in 2005, in Boston, with other Berklee students. Then you guys moved to California. What caused the band to move, and how would you describe the change?

Francesco: The band decided to move to Los Angeles after everybody was done graduating. The Boston scene was not bad but we were trying to expand the band's fame in a bigger area with more venues. Los Angeles is in fact that place but there are also so many cons about that place…bigger place means more bands, way more competition and unfortunately a shallower and a lot more "look/appearance based" scene…definitely something to keep in consideration.



UberProAudio: Now that you are playing with All Shall Perish, what is going on with Hiss of Atrocities?

Francesco: Hiss of Atrocities is on a long and undetermined break. After our summer 2009 tour the singer and the drummer left for different reasons. At that point Roy (the other guitar player) Mike O (bass player) and I started a new project called "Shiva Impact". We found an incredible drummer (Scott Schelko) later on with whom we wrote about 10 songs. That was also the time I joined ASP though, so unfortunately I also had to take a break from it and now I'm way too busy to be working on it.

"Shiva Impact" is currently recording an EP. The material is incredible; it's more of a rock/progressive/very groovy and melodic type of music. I love it, and I wish them the best.



UberProAudio: So tell us about your new solo album, "Chaos And The Primordial". What can listeners expect? How would you compare this album to the work you do with your two bands?

Francesco: This project basically started from my need of writing some music where I had complete control over it. I wanted it to be very guitar based. I wanted an album where I'd put together my entire arsenal of licks, but also based on thematic material and a lot different melodies. I wanted to experiment with musical forms and contrasting parts. It's mostly a heavy album but there's also space for clean guitars. One of the songs is a transcription I did of a Debussy piece originally for piano. I wanted to incorporate all the musical elements that I love and create something that could be appreciated not just by guitar players…even though that's probably going to be the majority of the listeners…nothing wrong with that.



UberProAudio: You have been quoted as saying some of the tracks on Chaos And The Primordial have more than 25 guitar tracks. That logistically sounds hard to manage in the studio. Was it challenging to keep track of what was what?

Francesco: It was not an easy process…it gets complicated when you have to deal with a lot of guitar tracks in this type of music. I like to create several layers to enrich the harmonic quality of some of the parts that I write, but multiple heavily distorted guitar tracks playing different lines can easily get lost in the mix or just create a very negative chaotic sound. In classical composition, when you are writing for orchestra, you are way freer during this process especially being able to control different instruments and all of their colors. It's less limited and easier if you know what you are doing. I've been studying classical music for a while and I tried many different solutions to these types of problems attempting to compare these two different worlds of sounds…I'm not done yet with it!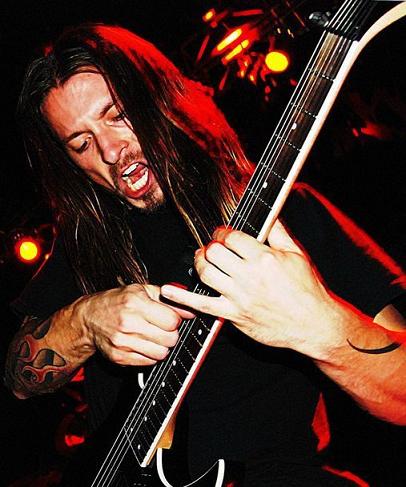 UberProAudio: Tell us about your teaching. We see you have video lessons on Guitar World and other great sites, but do you also offer private lessons? What type of lessons do you give?

Francesco: I started teaching one year after I started playing guitar, so it has been a while. I enjoy doing it especially when I get to work with more advanced students and so, when I can talk about more interesting and sophisticated subjects. I love to see a student putting time into it and improve quickly.

I currently only teach privately when I'm not on tour…in my studio in LA or on Skype.

I also just started collaborating with Guitar World doing some video lessons talking about some of the material from Chaos and The Primordial. I'm really stoked to be part of such a huge icon in the guitar community…it's a real honor!

I also do some lessons for guitarmessenger.com. The guy who runs it is a good friend of mine from Berklee and an amazing guitar player too.



UberProAudio: Our readers really want to know what gear you use in your guitar rig. What guitars, amps/cabs, effects, strings, picks etc… are you using live with All Shall Perish?

Francesco: On tour is a complete different story than it is in the studio.

I tend to keep it really simple when playing live with ASP. I'm currently playing and ENGL Powerball head with Mesa Boogie and Randall cabinets. On the floor I only have a Boss NS-2 and a Korg Tuner and the ENGL footswitch. I've been playing Ibanez guitars with Seymour Duncan Blackouts on them (best active pickups in my opinion). The entire band is endorsed by Ernie Ball strings and I'm using In Tune custom picks.

When I'm not on the road I use a lot more gear. I have 8-9 guitars that I constantly use depending on different recording sessions or gigs that I have…so, different tunings, 6 and 7 strings. My favorites are for sure my PRS Custom 24, my Carvin Holdsworth model and my Albimar Custom 7 string (probably the best 7 string I've played so far…too bad they stopped making these guitars.

I play mainly through a Peavey 6505+ with its own cabinet, TC Electronic G-Major, an ISP Decimator and I use a Furman Power Conditioner. I control all of this on the floor with a Voodoo Lab Ground Control Pro and an Ernie Ball volume pedal.

[Checkout our WhoPlaysWhat Rig Page for Francesco's rig in a list]

UberProAudio: Are there a couple pieces of gear you couldn't live without?

Francesco: I think that the best instrument I have at the moment is my PRS Custom 24. Not only plays great (I tend to record all melodies and solos on this instrument because it has an amazing and unique voice) but it also means a lot to me…it was a present from my grandfather…same thing for that Albimar Custom 7 string…it's not just a musical instrument for me.



UberProAudio: What advice can you offer guitar players who want to develop the chops needed to shred?

Francesco: Technique in general needs a lot of work and practice. You might even be a natural, musically very talented but you are still going to have to spend a lot of time on your instrument to build a solid technique. With shred you have to develop a lot of speed and precision in your fingers and usually a wider variety of techniques. This requires very good discipline and good organization of your daily practice schedule. Practicing mostly at a slow speed takes a lot of patience. Make sure that everything you are playing is played always with good timing, a good tone, fine touch and control. USE THE METRONOME…A LOT!!!



UberProAudio: We know you have a lot going on – tell us what's coming up for Francesco Artusato.

Francesco: I'll be in Europe with ASP touring for a month (Hell on Earth 2010 September/October tour)…very stoked about it… and right after that, the band will be focusing completely on the new record for few months…we already have a lot of offers for future tours but that's more than likely going to happen next year. So…writing, recording, some touring, album release and more tours…that's the plan.

I'm also going to focus on promoting my solo record that will be released this Fall/Winter and of course on writing some new solo instrumental music…I actually already started working on something, but it's way too crazy to talk about it at the moment.



Make sure to checkout what Francesco and All Shall Perish are up to at: http://www.allshallperish.com/ and Francesco's solo projects at: http://www.myspace.com/francescoartusatomusic