Rich Koehler plays guitar in Nico Vega, the American rock band from Los Angeles, California. The band draws a lot of comparisons to the White Stripes, Tina Turner and Janis Joplin, but is really doing its own thing – and doing it damn well. Nico Vega recently released their first full-length album, "Nico Vega", on MySpace Records, produced by Linda Perry and Tim Edgar. Following the album release, they have been touring like crazy, and lucky for UberProAudio, Rich had a chance to chat about it.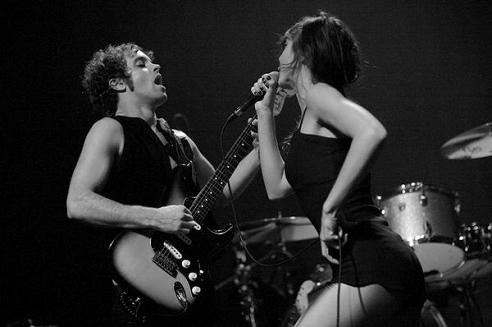 UberProAudio: You guys are touring your way out to the Pacific coast with plans to wrap it up at the Independent Noise Pop Festival.  How's the road treating you?

Rich Koehler: This is what we do. We play town to town and we like it. We're good at it too. This tour has been running smooth and Soundtrack sounds good too.




UberProAudio: You list yourselves as a vocal, guitar, and drum trio however bass is a huge part of your studio sound.  How are you making this work on the road?

Rich: I got the bass covered. I use the same technique live as I did on the album and it's real live.




UberProAudio: The vocal sound on "Coal Miner's Song" is extremely unique.  It's a great contrast to the Appalachian sound of the melody.  What sort of studio tricks did you guys use to get that sound?  The backing vocals are a perfect compliment to the sound.  Where did the idea come from to make them so distinctly separate from Aja's?

Rich: No tricks really, just some old ass mics and a lot of friends in the studio after dark.  The song itself was inspired by a documentary on miners.




UberProAudio: The gap between the releases of No Child Left Behind and Nico Vega is about a year and a half.  That's a significant time for a band to undergo growth and change; especially when airplay, press, and touring are involved.  Was there a certain philosophy behind your sound when recording Nico Vega that was different than No Child Left Behind?

Rich: Well, we felt we needed to capture the energy and the sound that our live shows have.  So we had to do some searching for the right folks to work with. We did it and we are happy with the results.




UberProAudio: How do you balance the pop-sensibility of your writing with the sonic experimentation that goes on in the studio?  Is tinkering with pedals and amp setting a part of your writing process or is it an afterthought?

Rich: When I write a piece I go by heart, body, soul and over all psychological reaction to what I am playing.  Once I get that reaction I take it down a path of honesty.  What ever that reaction is, is beyond me.  As far as sonics and pedals, I spend a lot of nights at the studio without a mission.




UberProAudio: It's not always easy to effect vocals; especially a more pure sounding voice but a big part of NV's originality is really in the sound of Aja's vocals; partially her tone and partially what is being done to the vocal track itself.  What are some of the things that you guys do in the studio to push that envelope?

Rich: We really don't fuck with it that much.  She brings it hard on the first take.  We love her natural thing.




UberProAudio: As a band, who are some of Nico Vega's biggest influences?  How about as individuals; are there some influences that creep into your playing that may not necessarily influence the sound you guys shoot for?

Rich: Tina Turner, Funkadelic, Bon Jovi.




UberProAudio: "Iron Man" contrasts a lot of the material on Nico Vega in sound and in tempo but still doesn't lose any degree of uniqueness.  The strings might be a bit expected but it's the other "experimental" sounds like the distant piano, triangle (?), etc. that rob it of any sort of cliché tags.  Who is taking care of those sounds?  What was used to achieve them?

Rich: Dan has a box full of some crazy percussive devices. Tim Edger our producer is also a great key player. And we got some friends too.




UberProAudio: What kind of gear are you using for your guitar sounds on Nico Vega?  Is this different from where you were at on No Child Left Behind?

Rich: I used the same pedals for my verse tones and started adding through out the recording process little by little.

[Checkout our Who Plays What page for Rich to see some of the gear he has used.]


UberProAudio: You've got to have a pretty versatile amp and guitar to recreate the gamut of tones you get on both your records.  What gear are you taking out on the road with you to recreate the tones you crafted in the studio?  Any secret weapons?

Rich: I have had the same amp for 8 years.  It's a staple in the sound.  That one goes with me and then I have 2 others for sound size and a bass rig that fluctuates in the mix.




UberProAudio: Plenty of bands these days are gravitating towards achieving a more creative overall sound using pedals, higher gain bass sounds, Theremins and other gadgets; anything that screams, "We're original." But you can take that message to such an extreme that the material suffers or becomes unlistenable.  How do you avoid this pitfall?  What's the best advice you can give to a band that strives to be a "sound based" outfit?

Rich: I say go for it, take it as far as it can go.  Keep it honest and sincere and angry and get as many people on board with you as possible. Write, Write, Write…




To find out more info about Nico Vega, please checkout http://www.myspace.com/nicovega


Interview by Kevin Williams.