Rich Koehler is the guitar player in Nico Vega, an awesome American rock band from Los Angeles, California, formed in 2005. The band consists of lead singer Aja Volkman, Rich, and drummer Dan Epand. The band has often been compared to The White Stripes and Janis Joplin. Check them out - good stuff!

Let's take a look at some of the gear and equipment that has been seen in Rich's guitar rig.

Also, make sure to checkout our interview with Rich on UberProAudio!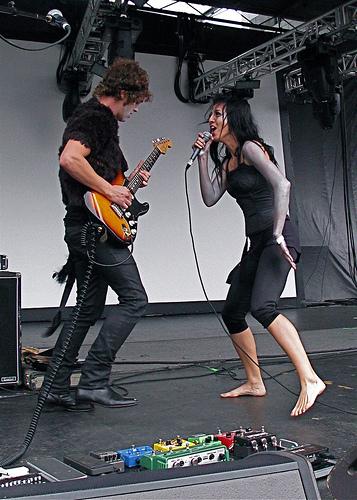 Guitars
Note: Rich has been seen playing Fender Stratocasters (one with rosewood neck, one with maple neck, sunburst finish) live.






Amps
- Fender amps
- Marshall JCM800 head and Marshall cab
- Other vintage looking amps







Effects
- Morley Switcher

- Voodoo Lab Pedal Power boxes
- Line 6 DL-4 delay pedal
- Ernie Ball Volume pedal

- Ibanez Tube Screamer TS-9



- Seymour Duncan Pickup Booster pedal
- Fulltone '69 pedal

- Electro Harmonix POG
- Dunlop Crybaby Wah pedal
- Boss Tuner pedal
- Boss Reverb pedal
- a couple other pedals