If you haven't heard of Living Dead Lights yet, you don't know what you are missing. The Hollywood based punk/rock band pumps out gritty guitar laden tracks with huge hooks. Living Dead Lights do their own modern thing while still reminding us of some of Hollywood's greatest rock bands from the past. Luckily we had a chance to chat with Alan Damien, Living Dead Lights' lead guitarist, about his guitar gear, the band, and the future.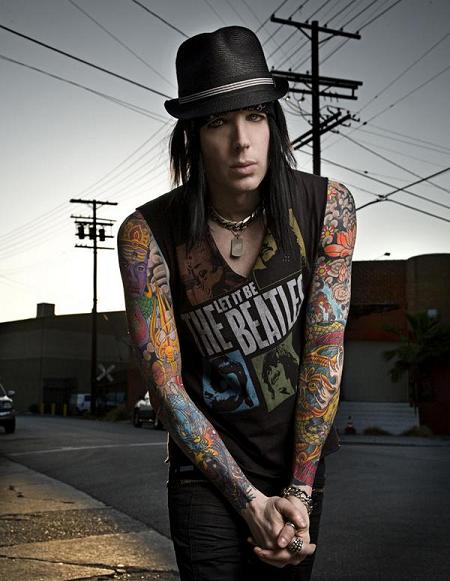 UberProAudio: Thanks for talking with us Alan. Let's kick this interview off with some info about your guitar rig. Tell us ALL the juicy details on what gear you are using these days – guitars, amps, pedals…!

Alan Damien: Well for starters my live set-up consist of a modified Mesa Boogie Dual Recitifier and Stiletto heads, and Mesa Boogie cabs although I have a 79' Marshall cab I like because it has higher frequencies than the Mesa which is more bassy sounding.




Guitars…..All Les Pauls!!! In live photos you'll see me with my '59 reissue gold top a lot of times…which I have loaded with high output Dimarzio pickups. I have a '96 Classic Deluxe Plus Les Paul that I love to death and a Classic '60 re-issue Les Paul too. All of the pauls get a lot of use in the studio/Live and when I'm writing.



Pedals…I use Dunlop's Crybaby spring loaded wah. It's great for super fast response…..no clicking involved!
Boss digital delay, Boss Octave pedal, Boss floor tuner and a Volume Pedal….Pretty simple…I've had  huge pedal boards before but if you're not using  all the pedals in your set…take it off the board, They'll get in the way  and it's too many things that can become a problem when you're playing live.





UberProAudio: What pieces of your gear really define the Alan Damien guitar sound?

Alan Damien: Live and studio are 2 different things. Live basically just like I said above is just Mesa Boogie Amps and Gibson Guitars. In the studio Taka and I both used the Mesas for a lot of leads and textures…but rhythms we used a '65 Fender Bassman and an '87 Marshall Jubilee and all Gibson Guitars.



UberProAudio: Tell us about this equipment/microphone deal with Sennheiser. What gear did they hook you up with?

Alan Damien: Guitar wireless systems and mics!!!



UberProAudio: How would you compare your guitar tone to Taka's [frontman of Living Dead Lights]. Do you guys aim for similar or different tones?
Alan Damien: We have a similar thing going on….we just  change up the EQ a bit to get a good separation of sound…mostly its just different guitar parts that do it.



UberProAudio: Living Dead Lights has some incredibly catchy songs, like "What Do You Do". Walk us through the process the band uses to write a track like this.

Alan Damien: Usually when we write a song it just starts with a riff or chords and a vocal melody and it grows from there.



UberProAudio: Living Dead Lights has well over 100,000 myspace friends. That's more than Aerosmith! Do you have any tips that might help growing bands amass such a following?

Alan Damien: We've been really grateful that we have been well received with everyone. Basically get songs together and a band that you believe in. Don't expose too much of yourself while things are developing. People can get burned out and it'll kill the momentum.. And then promote your ass off….



UberProAudio: Recently you guys posted on your Myspace that you are preparing for a tour. Can you share any details yet?

Alan Damien: Still working out dates but check the bands myspace or website..it'll be up soon!!
www.Myspace.com/LivingDeadLights
www.LivingDeadLights.com



UberProAudio: Your newest EP was recorded by Bradley Cook (Foo Fighters, Tool), mixed by Fred Archambault (Avenged Sevenfold, Deftones) and mastered by Eddy Schreyer (Jane's Addiction, Korn). Those are some big names. What was it like working with these high caliber recording industry guys?

Alan Damien: Awesome!!! It's nice to work with guys that get it.



UberProAudio: The guys in the band are from all around the world (Japan, Europe…). How did you all end up in Hollywood in a kick-ass band together? How did the band form?
Alan Damien: I've been friends with Taka for a long time and we always had a good writing connection… Taka became friends with Martin & Nick while he was in his last band…and  doing this band with them just made since.



UberProAudio: So what's on the horizon for Alan Damien and Living Dead Lights?

Alan Damien: I'm  working on a few new songs today…and I have a 5 foot Boa named Pandora - It's her feeding day haha!!

Image provided by Living Dead Lights.
Go to the next page for Alan's gear in list format.
Below is a listing of Alan Damien's Living Dead Lights guitar rig gear.
Guitars
- Gibson '59 reissue Gold Top Les Paul (high output Dimarzio pickups)
- Gibson '96 Classic Deluxe Plus Les Paul
- Gibson Classic '60 re-issue Les Paul




Amps and Cabinets
- modified Mesa Boogie Dual Recitifier head
- modified Mesa Boogie Stiletto head
- Mesa Boogie cabs
- 79' Marshall cab
Effects and more
- Dunlop Crybaby spring loaded wah
- Boss digital delay
- Boss Octave pedal
- Boss floor tuner
- Volume Pedal
- Sennheiser Wireless