Peerless Guitars may be a name that isn't as recognizable in the United States as some other big brands, but you are likely already very familiar with their work. Since 1970 Peerless, headquartered in Korea, has been producing very high quality guitars for manufacturers including Epiphone and Gretsch.  In 2007 Peerless began releasing carved archtop guitars under its own name. The company purchases raw materials and lumber and does all the building, assembly and finish work in their own facility. It really is a "soup to nuts" operation, where they handle all aspects of the guitar building process, leading to some quality guitars.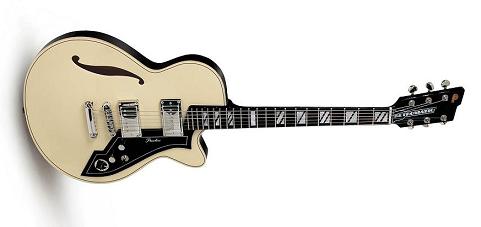 I'll admit that until recently I did not know much about the Peerless branded guitars. Some web searching led me to many forum threads where people were showing off either their Peerless labeled guitars or their prized Peerless built Epiphones (some beautiful Casinos, etc…) and raving about the quality. The Peerless guitars also appeared to be extremely popular amongst jazz guitar players, many who have been aware of the brand and reputation for a long time.

When I saw that Peerless was at NAMM 2013 showing off their brand new electric guitar model called the Retromatic, I knew I'd have to get a hold of one to do a review. A couple months later I got my hands on their new Retromatic P2, in candy apple red color.
Compared to the other guitars in the Peerless lineup, the Retromatic is a smaller body, thinline style electric. The 22 fret maple guitar neck has a 628mm (24.72 inches) scale with a rosewood fret board. The neck has black binding and Mother of Pearl inlays. The laminated maple archtop single cutaway contoured body has a mahogany sustain block and a single "F" hole.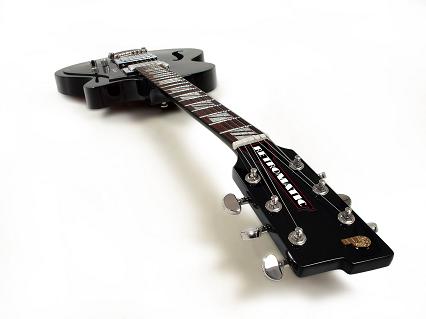 There are a variety of options for the Retromatic. There are seven different retro finishes, including natural, teal green, honey sunburst, ivory, black, gold, and candy apple red. There are also some different pickup combinations available. You can get the guitar with a single humbucker pickup, OR a humbucker AND a P90 pickup (with or without a 6-way varitone pickup switch). The Retromatic also will be available with the Stetsbar tremolo system as an option.
The pickups on this guitar were designed by Matt Gleeson, of Monty's Pickups in London and were created to be a match for the guitars body shape and acoustic characteristics. Matt's pickups are used by a variety of pros and are quite highly regarded. The bridge humbucker on this guitar is Alnico II wound at 7.9k/8.0k. The neck pickup is a P90 Alnico V wound at 7.1k/7.3k.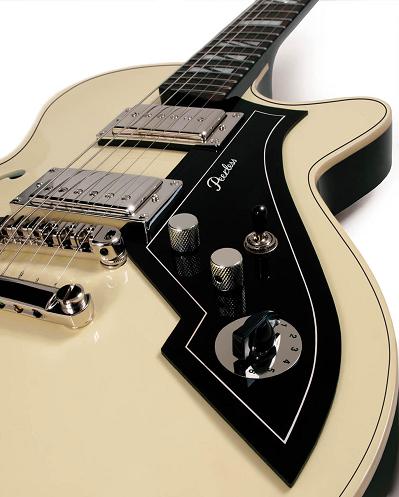 Everything sounds amazing on paper right? But how does this thing look and play in real life? Now that we've gotten the little details out of the way, let's talk about the actual guitar we got for review.

The guitar came in a nice quality fitted black hardshell case. Upon opening the case I was rewarded with a candy apple red beauty looking back at me. I picked up the guitar, tuned it, and immediately began playing around with it. The guitar was setup well. The action was low (but not too low), no string buzz, no problems with bends and so on. The neck was set well. For strings, it looked/felt like it had D'Addario 10's on it, though I still need to verify that.

As with many guitars that have some hollowness (thinline in this case), the natural guitar sound was very lively and dynamic compared to an all solid body electric guitar. This was great for a wide variety of music, especially rock (but perhaps not metal :). I naturally gravitated to some Izzy Stradlin riffs (a notorious hollow body player). After playing the guitar acoustically, I fired up Amplitube (my Budda is packed away right now) and matched the guitar to an Orange OR120 amp head and a 4x12 Orange PPC cabinet. Matched with that amp my conclusion is that this guitar is one bad-to-the-bone tone machine! The pickups on this bad-boy are the crowning jewel of the guitar. Matt Gleeson did an incredible job designing pickups that fit the characteristics of this guitar. The bridge humbucker is one of my favorite aspects of this guitar.

Here is a little recording I did of the Retromatic playing dirty tones on the OR120. I start with the neck pickup then make my way to the bridge pickup.
Here are the amp settings I used: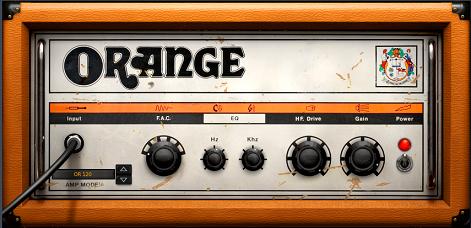 I also recorded some clean tones using a simulated Fender '65 Deluxe Reverb Amplifier. I cranked the volume up to 10 and put on a little reverb.

Clean Guitar Audio Sample
Here are the amp settings I used: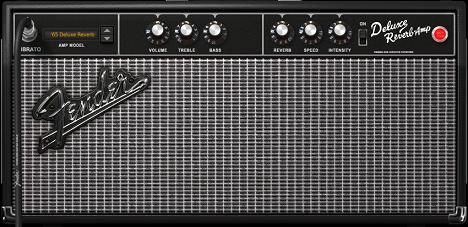 No review would be complete without a discussion of negative(s). I call BS on any reviews that are 100% positive; as I'm sure you do also. The fit and finish are perfect throughout the guitar except one small spot there was a little bit of black paint speckling near the neck joint. Otherwise, that's it…that's all I got for the "gripes" section.

Overall I'm very pleased with this guitar. Its street price seems to be in the $1,000-$1200ish range, and seeing how it contends well with guitars nearly twice its price, it is quite a value. If you are looking for a retro looking and sounding tone-machine, I recommend that you definitely take a look at the Peerless Retromatic.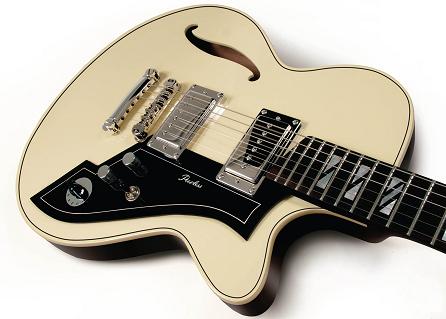 For more info about Peerless and the Retromatic guitar visit http://www.peerlessguitars.eu/