This summer SANYO came out with a cool new gadget for musicians, called the "Pedal Juice". SANYO may not be a name we all instantly associate with gear for our guitar rig, but they are a leader in rechargeable battery technology, which makes them a great company to design a product like this. In short, the Pedal Juice is a 9v DC Rechargeable Lithium-Ion battery device. Let's talk more about what that means, what it does, and check out some pictures we took of the product.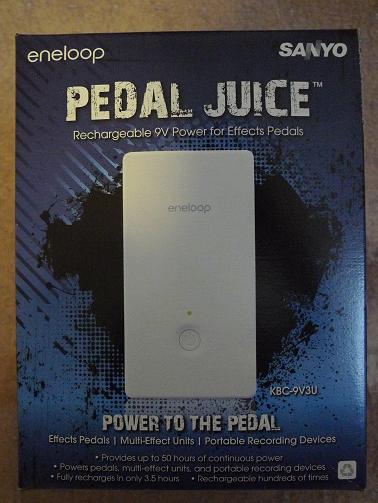 So what is the SANYO Pedal Juice? It's basically a Lithium Ion battery, the size of a guitar pedal, which you can use to power your effects pedals and other 9 Volt devices. Let's look at some bullet points of what makes the Pedal Juice a cool device:
It can provide up to 50 hours of continuous, quiet, clean, stable power.
Eliminates AC Ground Loops
Two 9V DC outputs – so you can power multiple devices
It has a single on/off button
There is a 3-stage LED indicator which provides power level status. This is really handy, since it takes some of the guesswork out of how much power is left in the unit.
It is water and shock resistant!
Rechargeable hundreds of times.
The Pedal Juice full recharges in only 3.5 hours – via the included AC adaptor
Click the pic below for more details:
The tech specs sheet for the Pedal Juice show some Standard Usage Time scenarios that we thought would be useful to post here:
Analog effects unit (Overdrive pedal, etc..: Current used is about 10mA):  Approx. 50 hours
Digital effects unit (Digital Delay / Digital Reverb etc.: Current used is about 50mA):   Approx. 27 hours
Digital multi effect unit, mini amp, or Graphic EQ (Current used is about 100mA): Approx. 17 hours
Multi-track recorder or synthesizer (Current used about 300mA): Approx. 7 hours
Electronic drums or percussion (Current used about 1,000mA): Approx. 2 hours
Example: 3 effects units (Overdrive + Chorus + Digital Delay: Current used about 80mA): Approx. 20 hours
The max output listed for the battery is about 2,000mA. You can do the math for your devices now based on the above numbers.
You can see that multiple pedals can be powered from the Pedal Juice. We saw another reviewer test out 5 pedals at once, which worked great. We tested out two pedals we had laying around the studio, and the Pedal Juice powered them well. I think someone with a smaller pedalboard would be a real winner when using the Pedal Juice, as their pedals would receive a long supply of power before requiring a recharge of the Pedal Juice. Imagine having this type of long lasting power available to your pedalboard without needing to plug into the wall. Since it provides continuous power, you don't have to worry about battery sag with your pedals either, which is a nice plus.
List Price for the Pedal Juice is $199.99, and street price at the time of this writing seems to be around $150. Based on the price of 9 volt batteries, this can easily work itself out in the long run.
Here are some pictures we took of the Pedal Juice: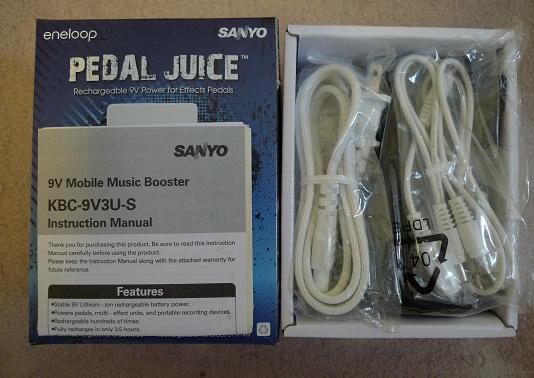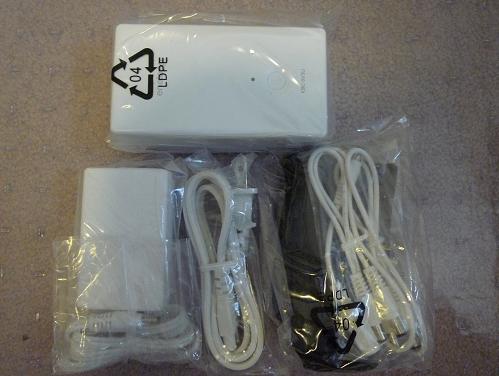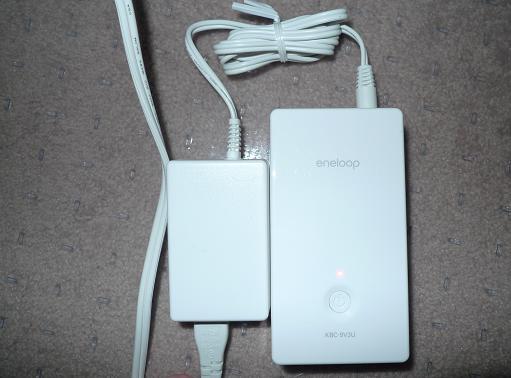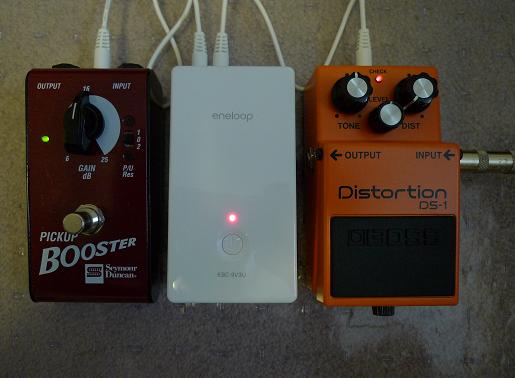 And here are a couple stock photos: