UberProAudio checked out IK Multimedia's latest offering, AmpliTube 3. A massive upgrade of the leading guitar and bass tone gear modeling software, AmpliTube 3 "raises the industry standard of sound variety, realism and creative power". We took the software for a spin, so check out our review for pictures, sounds, and lots of info!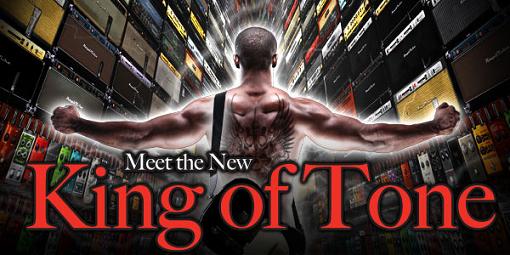 On the IK Multimedia website describing AmpliTube 3, it states that "AmpliTube 3 gives you More". After using this extremely powerful guitar amp and effects modeling  software I  can vouch that this statement is true. I already use AmpliTube Fender® and AmpliTube X-GEAR and I thought guitar amp modeling couldn't get better. I was wrong because IK Multimedia kept working on it and made it even better. New features include (check  IK Multimedia's website for a complete list) over 160 models of vintage and modern gear including 30 new vintage gear models and effects.  Also there is advanced preset organization and management as well as a "MIDI learn" feature for using outboard controllers. AmpliTube 3 is expandable with Amplitude Fender and Ampeg SVX amp modeling collections, as well as many of their other programs.  I will go into some other new features in this review.

For this review I used Windows 7 on an x64 based computer with an Intel  i7 processor running at 2.67 GHz. Sonar 8.53 is my DAW.  I had no problems authorizing, downloading, and registering the software. It was easy as long as you follow the directions that were emailed to you. The software comes as standalone software as well as a plug-in that can be used with any DAW package. The Users'  Manual comes bundled in the program. It is very readable and it has much information and many how-to screenshots included.

The first thing upon running the program is getting the computer's sound card connected with the program. This was very easy as a window popped up and all I had to do was pick my drivers and outboard audio interface.

I found the interface layout to be very intuitive. It was very easy to change the signal path to control and use multiple amps, speakers and effects. Simply clicking on the signal path will allow the user to change the signal path. Also multiple presets can be set up and saved for quick access. I was impressed with how clean looking the graphics are. The text and numbers were easily readable.

Now that I was up and running I took a look at all the features. Since I had previously been learning a new tune the first thing I noticed was the Speed Trainer. This is a very powerful feature,  that as well as being a speed trainer, is also a 4 track recorder. I tried loading a tune and couldn't figure out why it wouldn't work until I realized that I had a windows media audio file.  When I tried an Mp3 or wave file it worked beautifully.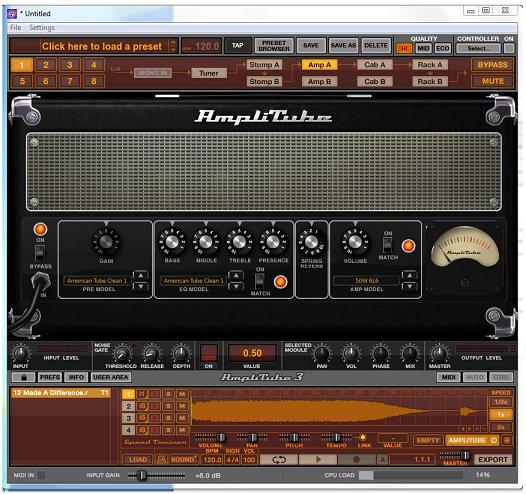 Next I tried the recorder. Since I had my bass out I decided to do a quick little jam using a few of the guitar and bass sounds found in AmpliTube 3. Before I started, I tried out the tuner which is now very assessable. Tuners on basses can be finicky but in seconds my trusty Fender was in tune. I then proceeded to record 4 tracks. This 4-track recorder is very handy for quick sketches or recorded jams as you don't have to go into your DAW software.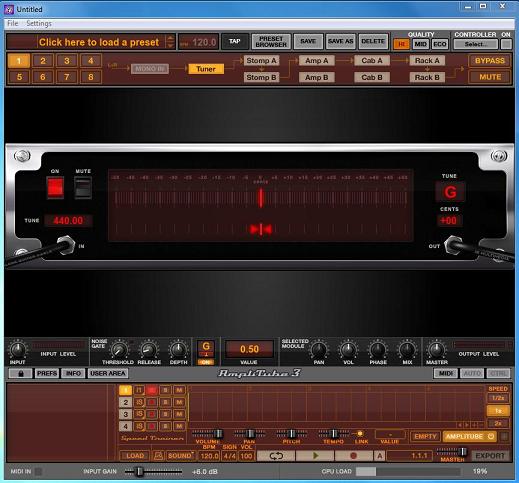 AmpliTube 3 has added a Leslie 147 styled speaker to their models. Having carried a Hammond and a beefed up Leslie to many job, for many years, I was curious to see how it sounded. I also thought it would be a good time to check out the midi learning capabilities of AmpliTube 3. I shut off the rotary speaker emulator of my Korg CX-3 organ and loaded the preset "Roto clean". All I had to do to assign a midi change to the speaker was right mouse click on the speed button and a Midi Learn window came up. I simply pushed the fast - slow button on the Korg and the midi was connected. I wish that I had a 3 -way switch because the speed would either brake or be on fast speed. I suspect that with IK Multimedia's Audio Interfaces/Controllers it would be a breeze to set up midi to any amplifier or effects parameter.  The rotary speaker sounded great. It had the swish of a real Leslie. Also I liked the way it changed speeds with a true gradual feel. I would not hesitate to use the rotary speaker in my recordings. I also wouldn't be afraid to take one of the dirtier amp sounds and use it in conjunction with the speaker. I tried it on vocals and it sounded very retro.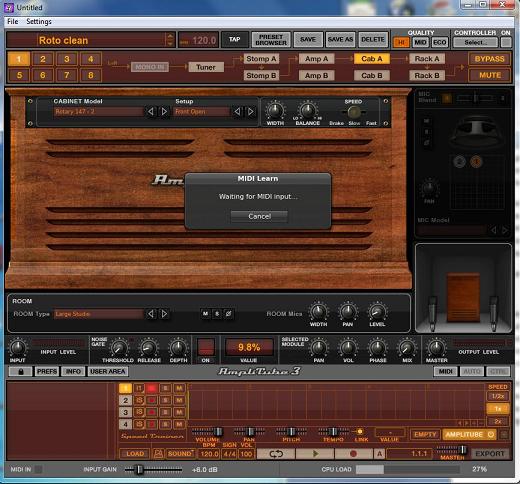 Now it is time to look at some of the guitar and bass amps and emulators. AmpliTube 3 offers a wide range of amplifiers. Here is a partial list of a brands modeled (though for licensing reasons the presets don't have the actual model names, except for the Fender and Ampeg  amps).

Fender®, Marshall®,Vox®, Orange®, Mesa®, Roland®, Trace Elliot®, Acoustic®, Gallien Kruger®

The sound of these models to my ears was very impressive and realistic. I liked the fact that an individual can mix and match to make an infinite number of amp - speaker combinations. All of the guitars and bass guitar on the following clip used the AmpliTube 3 amp and speaker models in the plug-in mode.

Click here to listen to clip.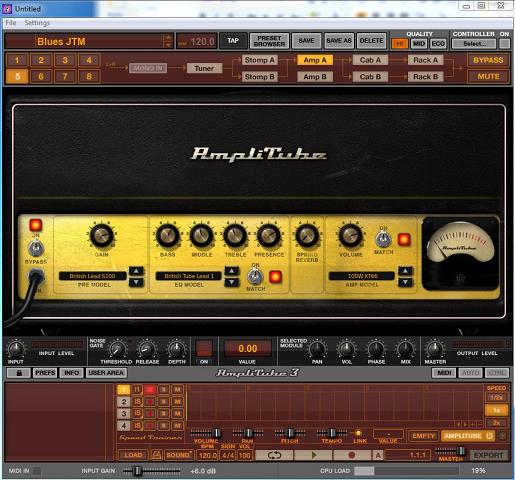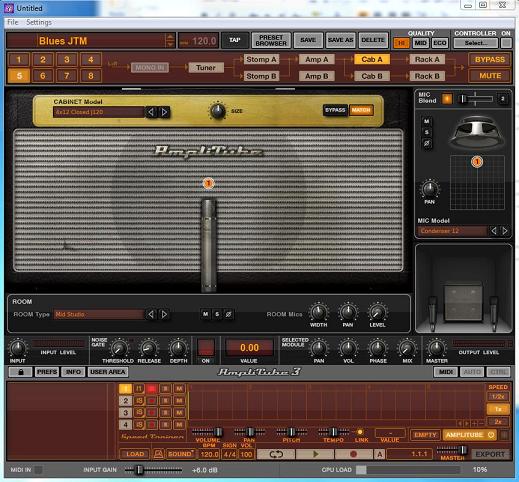 AmpliTube 3 allows the user to control the room size, microphone placement and distance from the speaker. It also allows for the positioning of microphones in the room.  True room character is obtained. These features provide more flexibility in obtaining desired sounds.

The effects and pedals in AmpliTube 3 are wonderful and very easy to set up using the drag and drop feature. They can be easily automated during DAW use or easily controlled via midi. Included in the package are over 50 stomp boxes and 17 rack effects. There are many flavors of your favorite vintage stomp boxes as well as some unique IK Multimedia effects such as StepFilter, StepSlicer, Resonator, TapDelay, and swell effects. I particularly enjoyed the StepFilter.  I will use many of these effects in my DAW for things other than guitar.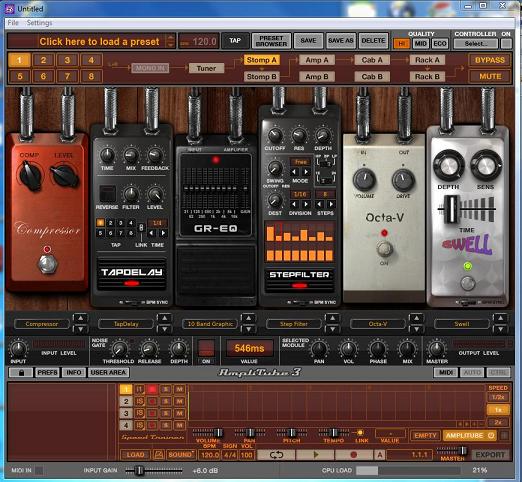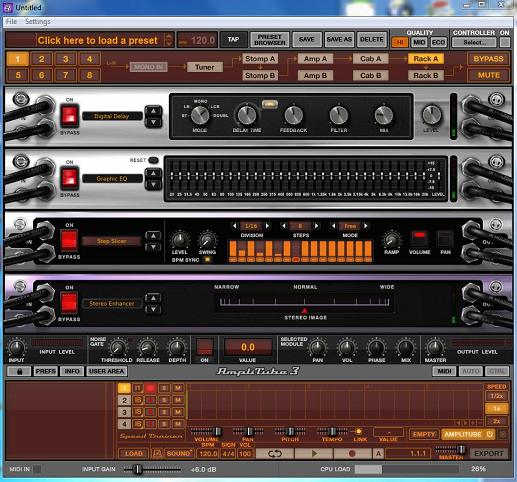 The final verdict is that I will use AmpliTube 3 as my go to guitar and bass plug-in for my DAW.  I will also use some of the effects on other instruments like organ and vocals. I wouldn't hesitate to set up the free standing version for live use. This program would easily compete with any of the sampled amps for live performance. AmpliTube certainly packed this program full of great sounding and useful goodies!

- Spence at UberProAudio