So I was looking to add another cymbal to my drumkit and decided to go to the music store to see what I could find. The store had a large display with a bunch of 10" splashes and a few 8" and 12" cymbals. I really didn't want to spend a lot on a splash, and as I looked the cheapest splash on the rack was $45 and only a 10". The guy behind the counter took out a drum stick and proceded to smack each splash for me so I could hear the difference in sounds. None of them sounded THAT great to me.
After listening to a bunch of 10" cymbals, I felt that I wanted a 12 inch and that's when I noticed out of the corner of my eye that there was about 6 Wuhan 12" Splash Cymbals
hanging on the wall. I asked for their price - under $30! This was looking promising. We then took all 6 of them out on the floor and hit each one. About 3 of them sounded the same, and the other 3 sounded quite different. One of them sounded a bit darker and louder than the others - it was a great sound. I bought it and took it home for a test drive.
Below is a picture I took of my "Gently" used Wuhan. Looks nice eh?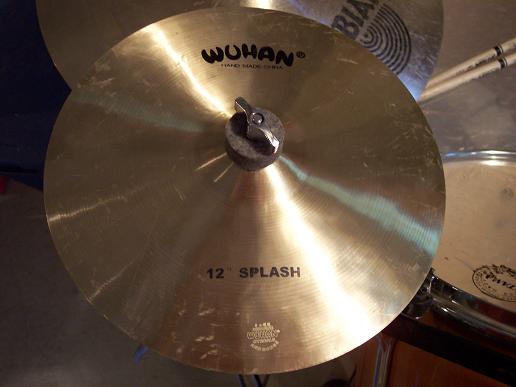 All I can say is nice splash cymbal! For under $30 the Wuhan sounded as good as any of the $100 one's and appears to have gotten some great reviews on the Internet. If you are in the market for a new splash cymbal, give this one a try.
 (Click image below to enlarge)
Here's some info on the cymbal (Click the image to buy the cymbal at Musicians Friend):
Wuhan "Western-Style" splashes, crashes, hi-hats, and rides are created by Wuhan's cymbal craftsman and have a distinct, unmistakable character. Generally thinner than other cymbals, they produce a breathy wash of overtones and a comfortable cushion of sound that is complex and very musical. Guaranteed for one year. If they break for any reason, you get a replacement from the manufacturer. No questions asked.