For guitar and bass players out there turning to software based amp modeling there's something new for you to play with.  IK Multimedia's newest product in the realm of amp modeling is (drum roll please)… Hardware?  Yes hardware indeed.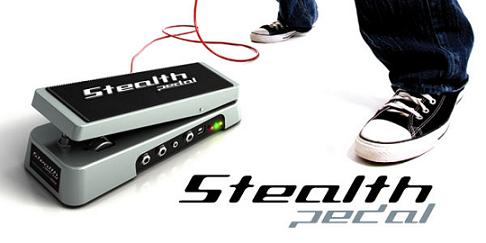 The StealthPedal Guitar Interface connects your axe to your computer via USB while lending a real-time, classic stomp-box feel to your digital dream rig.  This interface was specifically designed by the nice folks at IK Multimedia for guitar and bass players who have joined the ampless revolution sweeping across the stages and studios of the globe.  The StealthPedal has the ability to control assignable functions within your modeling software via MIDI data sent by the pedal to your Mac or PC such as wah and volume, while also offering 24-bit/48k recording capabilities.  While the notion of doubling a digital stomp-box interface with the ability to control parameters is not necessarily a complex one, this is the latest product of this kind to simplify the traditional laptop rig.  The StealthPedal is encased in a durable metal chassis, has a quality, low-noise input, as well as two audio outputs and a headphone jack.  IK Multimedia also offers expansion options for additional controller pedals that enable multiple parameter controls like patch/amp changes, stomp-box on/off switching, etc.
I was lucky enough to spend a month with one of these in my project studio and I had a blast messing around with it.  The narrow shape of the StealthPedal took me back to my Dunlop Crybaby days (well before I discovered my affinity for the Morely wah) and I found myself messing with some Clapton-esque tones I haven't enjoyed tinkering with for what seems like far too long.  The volume control was excellent too lending me the opportunity to have some fun with Jeff Beck's "Definitely Maybe" and some really atmospheric swells when I threw on the delay stompbox in the Amplitube X-Gear package.  It works great with bass as well offering the chance to pay homage to the late Cliff Burton with some great bass-wah control that really growls with the gain on any one of the Ampeg SVX models cranked.  Throwing a bass overdrive in the chain will yield an involuntary performance of Burton's famed lead from "For Whom the Bell Tolls" off of Metallica's, Ride the Lightning.  No, seriously it happens.  If you really want to get creative, plug a violin with a pickup into it and play any one of the thousand amp-cab-effects combinations.  I did and it totally blew my mind; especially when we turned on the volume and wah effects.  It was that cool.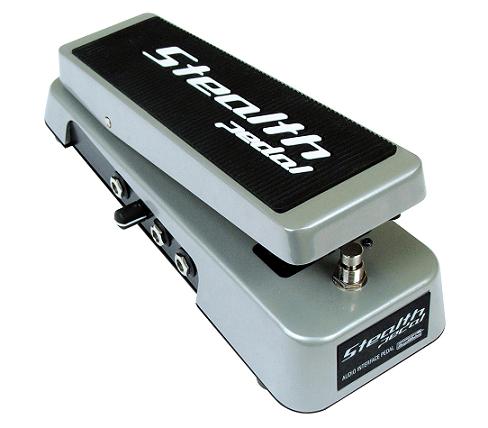 Though it does lend an organic element to your software and offers the convenience of controlling certain functions, the purchase may be a bit impractical for those of you leaving the confines of your project studio in favor of a live environment.  The StealthPedal retails for $269.99 ($449.99 for the deluxe version which includes the ever-so-sweet Metal amp package, AmpliTube 2 and also Ampeg SVX). Street prices tend to be a bit less.  The one thing you may want to consider is if that money may be better spent expanding a more traditional live rig if the one you're using already doesn't involve plugging your laptop in onstage.  I also had some difficulty at first configuring the pedal to work in real-time with the amp models within my DAW (I use Sonar) but after some head scratching, phone calls, and emails I got it up and running.  If you don't want to run your rig in tandem with a DAW you can also load backing tracks right into the stand-alone version of X-GEAR, which is included free and features auto-assigning controls.  Like classic stomp-boxes, the MIDI controller feature does only enable control of one function at a time so you may feel a bit limited in a live setting if you're the kind of player who's acclimated to more complex patch changes.  If you're a less is more kind of guy (or girl) this might just be what you're looking for though.  The way around this is by purchasing the expansion controllers for the StealthPedal or utilizing some other kind of external controller like StompIO, IK Multimedia's highly sophisticated controller/interface, or even a traditional Ernie Ball volume pedal (see picture below of StealthPedal setup with a controller pedal).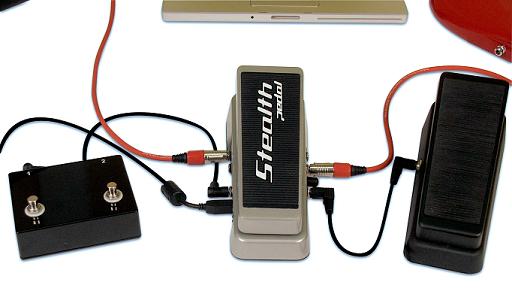 Obviously this can get expensive, but honestly we're all gear junkies here at UberProAudio and if you're reading this you're probably one of us too.  If you do find it worth the investment there's nothing quite like this on the market for players that have found an affinity for the ability to access a multitude of amps, pedals, microphones, and cabinets (and combinations thereof) they would otherwise find inaccessible were it not for the wonderful world of software.  For more information you can go to www.ikmultimedia.com and click on the StealthPedal.  There's even a really cool video. 
Pros:  Real-time control with virtually no latency; outstanding sound quality; seriously durable; expandable; makes a standard laptop rig simpler and more affordable than using the previously released Stomp IO or other competitors products; really, really cool

Cons:  Slightly convoluted for us when configuring with a DAW (Sonar at least); expansion can get costly without which the controllable features remain somewhat limited.
Checkout the StealthPedal at Musician's Friend:

Review by Kevin Williams. Kevin is a film composer and performing musician in the Providence, RI area.