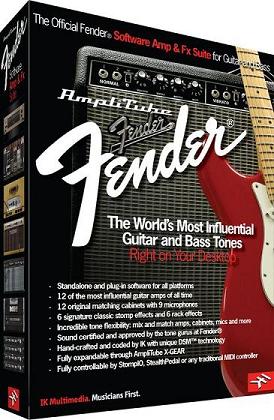 UberProAudio reviews the new IK Multimedia AmpliTube Fender® software. Read more to find out what we thought!
Having cut my rock and roll teeth in the early 70's I was very excited to receive the AmpliTube Fender® software. IK Multimedia designed this software in conjunction with Fender® thus the graphics are very realistic and pleasant to look at. Also I noticed that because they are able to use real amp names and settings instead of generic names, it makes using this software much easier. There is no need to figure out the cryptic name of a setting or amp model. 
Once I had the software installed I put AmpliTube Fender® through some tests. My first trial was playing with it in the standalone mode. I plugged my Warwick Thumb bass directly into my RME 800 interface and ran the outputs into a neutrally set sound reinforcement system with subwoofers.  IK Multimedia has an interface that works with their amp modeling systems designed for live and studio use, but any dedicated audio interface will work just fine. I tuned up using the built-in tuner that comes in the program. I found it to be very steady with the bass, unlike some software tuners that I have used. I must say that AmpliTube Fender® is very intuitive and I was immediately searching through presets and playing. Some of my favorite amps to play through were the Bassman 300 presets and the Fender® TBP-1. The presets sounded very good and I must say that their modeling is excellent. I had rich tones that were very controllable and on some presets you can hear the tube buzz while playing. The interface has a noise gate built in that allows for the reduction of some of the amp noise that is inherent in a few presets.


I then had GIT graduate Chad Fishel play a band practice through AmpliTube Fender® using his Yamaha electric guitar. It took him a few seconds to dial in his sound and we used it through the practice. It was agreed that it sounded better than a certain modeled amplifier that he usually uses. He used some crunchy tones as well as clean. We both observed how realistic the sounds were even as the notes faded out.


Some other very nice features in the standalone interface include speed trainer and a metronome. If you had had to buy a hardware model that does what speed trainer does you would probably have to spend $50-$60. It allows you to download a wavefile or .mp3 of a tune and control the speed and pitch. This makes an excellent tool for learning tunes.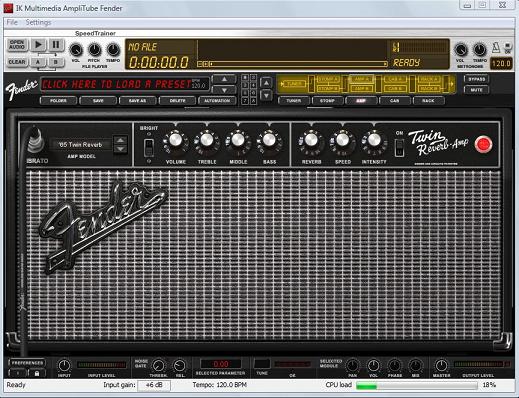 Some of the neat common features of the interface includes the 6 stomp effect models including Fender® Blender, Fender® Phaser, Fender® Fuzz/Wah, '63 Fender®Reverb, Tape Echo and Volume. The Fender® Blender really allows for some interesting tone combinations.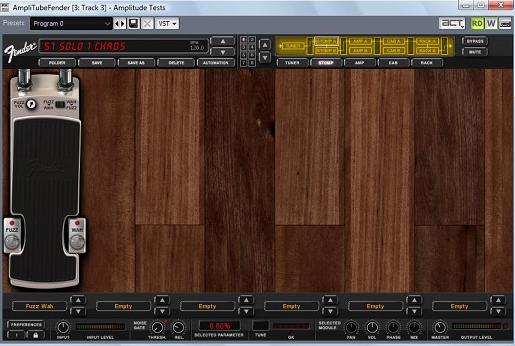 There are 12 amp models which include '59 Bassman® LTD, '65 Twin Reverb®, '57 Deluxe™, '65 Deluxe Reverb®, '64 Vibroverb™ Custom, Super-Sonic™, Vibro-King® Custom, Pro-Junior™, Champion™ 600, MH-500 Metalhead™, TBP-1 Bass Preamp, and Bassman® 300. Also found are 12 speaker emulations which include '59 Bassman® 4x10" Open Back, '65 Twin Reverb® 2x12" Open Back, '57 Deluxe™ 1x12" Open Back, '65 Deluxe Reverb® 1x12" Open Back, '64 Vibroverb™ 1x15" Open Back, Super-Sonic™ 1x12" Open Back, Vibro-King® 3x10" Open Back, Pro Junior™ 1x10" Open Back, Champion™ 600 1x6" Open Back, MH-412SL 4x12" Closed Back, Vibratone 1x10" Rotary Speaker, 810 PRO and 8x10" Front Ported.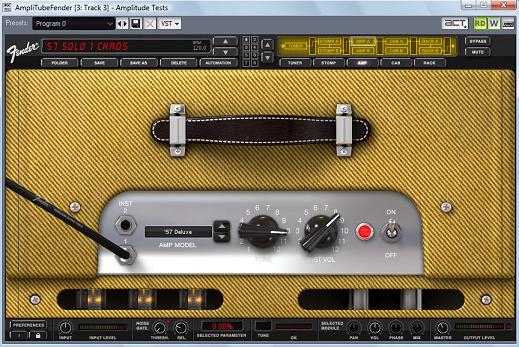 These amps and speaker cabinets come in matched configurations but can be easily mixed also. I really like the mic selection and the ability to set the mic on or off axis, near or far from the speaker and the setting that allows control of the cabinet ambience. Mics that are used on the cabinets include Condenser 87, Condenser 84, Condenser 414, Dynamic 57, Dynamic 421, Dynamic 441, Ribbon 160, Groove Tubes® MD1b-FET, and Groove Tubes® VELO-8.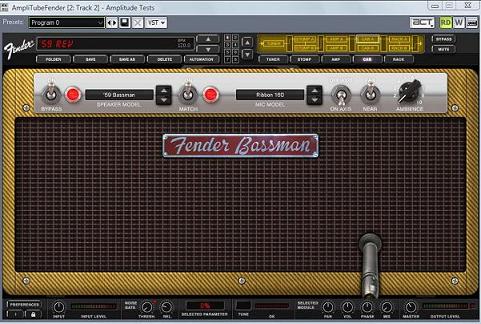 Other things worth mentioning is that there are 6 rack effects that are modeled after Cyber-Twin® SE: Pitch Shift, Tape Echo, Triangle Chorus, Sine Flange, Wah, and Compressor. These are powerful but easy to use effects. There's even more you can do with your sound if you consider that there are 2 series/parallel guitar rigs with up to 32 simultaneous effects.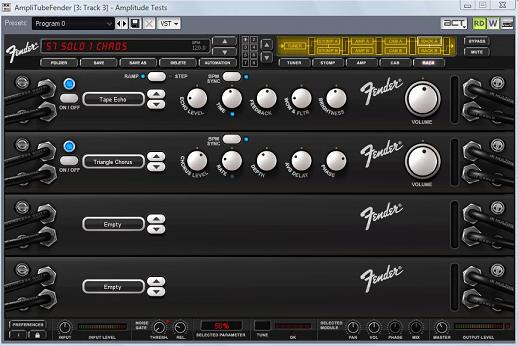 My next test was setting AmpliTube Fender® as a plugin in my Sonar DAW. I first used it on a tune that I had recorded to give the bass guitar more presence and make it sound like it had a bit of speaker ambience. I also used it on a Gibson electric to give it a bit more sizzle. The effect was astounding in that it took an OK recording that was flat and gave it some zip. I played a blind test for a friend and he thought the treated version was more sonically interesting.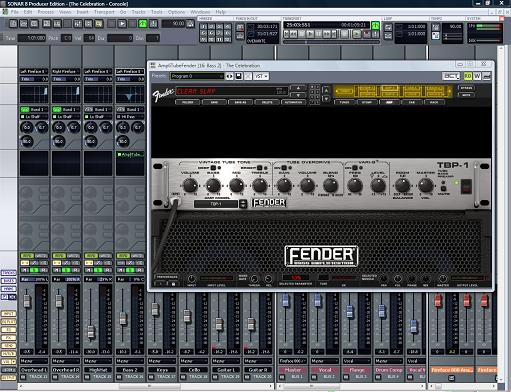 In order to include some waveforms of what AmpliTube Fender® can sound like, I had Chad come up and play a short section using the electric guitar directly inputted into the interface with no effects. We then found some interesting effects to put on the lead line. It is very easy to automate any of these effects in a DAW. For this recording I automated the wah wah pedal in real time.

Unreated Song

Treated Song
The settings for the sample recording include the following:
 
Rhythm Guitar -  59 bassman amp using a 59 reverb preset. Nothing else
 
Lead Guitar - 57 Deluxe using a 57 solo 1 preset for the amp, a fuzz-wah on the stompbox with the wah recorded and automated live, the cabinet is the matched cabinet with the 57 Deluxe with the Groove Tubes mic, and the rack effects used are tape echo and triangle chorus.

In conclusion I am very pleased with IK Multimedia's AmpliTube Fender®. If you are in need of truly authentic Fender sound please try them out. Check their website and look at their other modeled amps.


- Written by Spence at UberProAudio. Spence has years of experience in the music business, whether it be playing in bands with nationally known musicians, or recording projects of interest out of his New York studio.
We learned a few other cool facts after speaking with IK that are definitely worth mentioning:
- AmpliTube Fender Studio software is also available for beginning recording guitarists
- AmpliTube Fender integrates with all other "Powered by AmpliTube" products inside X-GEAR for a massive, expandable collection.
- AmpliTube Fender inside X-GEAR can also be controlled in real-time via StompIO, StealthPedal, and traditional MIDI controllers. Very cool!
More Info can be found at:
www.ikmultimedia.com