Details

Category: Who Plays What
Last Updated on Tuesday, 07 January 2014 16:19
Published on Tuesday, 04 October 2011 13:33
Ben Bruce is the lead guitarist in the chart-topping metalcore band Asking Alexandria. He has played on Jimmy Kimmel Live and co-writes all of Asking Alexandria's songs. Ben likes to keep the gear he uses simple, by plugging straight into his amp most of the time.

Here's some of the gear and equipment that Ben has been seen using in his guitar rig.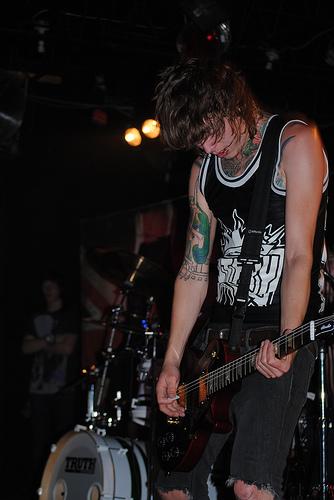 Click the gear images for more info and specs at Musician's Friend
Guitars
- Ibanez custom made Prestige Series guitar (Seymour Duncans, Kill Switch. Purple burst)
- Ibanez BBM1 Ben Bruce Signature guitar
- Ibanez Neo-Classic Series FR1620 (has been his main guitar-he has them in white and black)

- Gibson Les Paul Studio (wine red, chrome)
- Fender Standard Stratocaster (3-Tone Sunburst, Rosewood Neck. Used on the "A Prophecy" music video)

- PRS Custom 24 Electric Guitar (his is Vintage Natural Flame with Tremolo)

- Various Custom Ibanez Guitars





Amps
- Peavey 6534 Heads (His main amp)

- Peavey 6505+ Heads

- Fender Super Sonic 60 Amp Head (Used on the "A Prophecy" music video)

- Orange Amplifiers 4x12 Slant Cab

- Peavey cabinets (black, 4x12")

- ENGL head (appears to be Powerball) and cabinet (6/2011 pic)
- Sommatone Outlaw and matching cab





Effects
Note: In Sept 2011 interview, Ben said he often plugs straight into his amplifier, but he has been experimenting with some Line 6 pedals lately.
It also appears he has used some Boss pedals and some other pedals in his rig (checkout this pic):
- Boss NS-2

- Boss Chromatic tuner

- Line 6 Wireless system

- Dunlop Crybaby Wah pedal





Other
- Dunlop Heavy Core Electric Strings - Heavy Gauge

- DiMarzio 2" Nylon Cliplock Strap (he has them in White and Black)