Details

Category: Who Plays What
Last Updated on Monday, 12 November 2012 20:28
Published on Tuesday, 24 July 2007 19:38
Chad Smith of the Red Hot Chili Peppers not only lays down a funky groove on his kit, he plays on some cool drum equipment. Chad also is well known for playing in the band Chickenfoot with Sammy Hagar. Let's take a peak at what drums Chad has been seen playing on.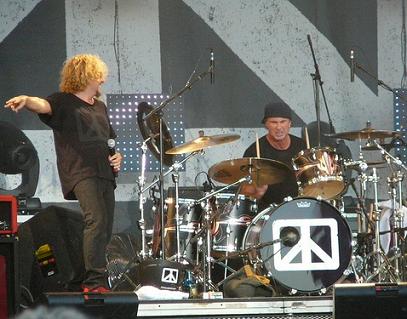 Click the gear images for more info and specs at Musician's Friend
Note: Chad had a Pearl signature kit for sale during a limited time in 2008/2009:
Drums - Pearl Mastersworks Series 5-Piece Kit

24 x 16 Maple Bass drum
12 x 10 maple rack Tom
14 x 14 Floor Tom
16 x 16 Floor Tom
Pearl Sensitone 14x5.5" brass snare
Peal Sensitone 14x5.5" steel snare
Chad has had a signature Pearl snare:
CS1450 Chad Smith Signature Snare drum
Cymbals
- 14" AA medium Hats

- 10" AA medium Splash

- 19" AA Medium Crash (or 18.5" Signature Chad Smith Explosion Crash)

- 21" AA Rock Ride

- 20" AA Rock Crash

- 19" AAX China

- 14'' AAXcelerator hi hat


Hardware - all Pearl
- S2000C Snare Stand

- H2000 Hi-hat Stand



- B855W Boom Cymbal Stands x 5
- TH100I Tom Arm
- D150 Drum Throne
- AX20 Adapter

Drum Heads - Remo
Snare - Coated CS Control Sound with dot batter on top snare ambassador on bottom snare side

Toms - Clear Emperor on top of Toms. Clear Ambassadors underneath

Kick - Coated Powerstroke 3 on Bass Drum Batter with a Falam Slam. Custom Painted Head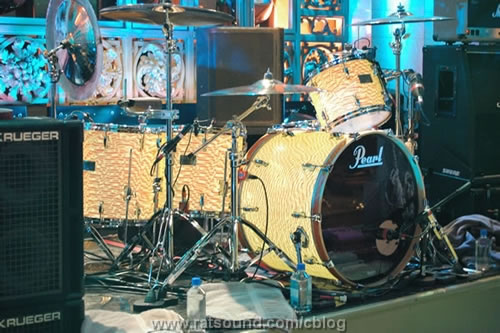 Microphones
HiHat = Shure SM81

Kick = Shure SM7A and Shure SM91A

Snare =  Shure Beta 56A

Toms = Shure SM98A
Sticks
Vater 5B Chad Smith FunkBlaster