Details

Category: Who Plays What
Last Updated on Thursday, 14 March 2013 17:41
Published on Tuesday, 20 July 2010 09:24
Chris Broderick is the current lead guitarist for the popular American thrash metal band Megadeth. Chris has also played with bands Jag Panzer and Nevermore.

Let's take a look at some of the gear and equipment that has been seen in Broderick's guitar rig.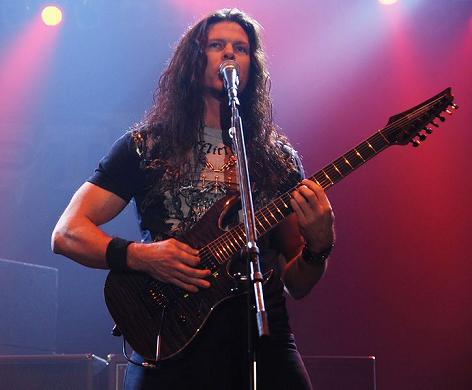 Click the gear images for more info and specs at Musician's Friend
Guitars
- Jackson Chris Broderick Soloist 6 (new in 2011)

- Jackson Chris Broderick Soloist 7
- Ibanez S5470 Prestige (Dimarzio D-Activator pickups)

- Ibanez 7321 and 1527 7 string guitars (with Dimarzio D Activator pickups)

- Ibanez 7 string acoustic
- Edward Victor Classical guitar
- Fender American Deluxe strat

- custom built double neck guitar





Amps and Cabinets
- Marshall EL34 Power amps
- Marshall JVM amplifiers

- Marshall Cabinets with Celestion Vintage 30 speakers

- ENGL Powerball Head into a Vintage 30 4x12 amp cabinet (used outside of Megadeth)

- ENGL cabinets with G12H 30 Celestion speakers
Effects
- Fractal Audio Axe-FX II
- Fractal Audio Axe-FX Ultra effects unit (2010)
- Digitech GSP1101 preamp processors

- Roland GR-33



- Ibanez Weeping Demon Wah Pedal

- Planet Waves Chromatic Tuner




Strings and Picks
- Ernie Ball 10-46 strings and a 62 for his seventh string

- Dunlop Tortex TIII (T3) picks 1.5mm (black)

- Dunlop 1.35mm sharp picks

- Dunlop Jazz 3 black picks