Details

Category: Who Plays What
Last Updated on Thursday, 09 January 2014 16:47
Published on Tuesday, 15 June 2010 08:53
Vivian Campbell is a guitar player in Def Leppard. He also has been in many other great bands, such as Thin Lizzy, Dio, Whitesnake and his own solo blues work.

Let's take a look at some of the gear and equipment that has been seen in Campbell's guitar rig.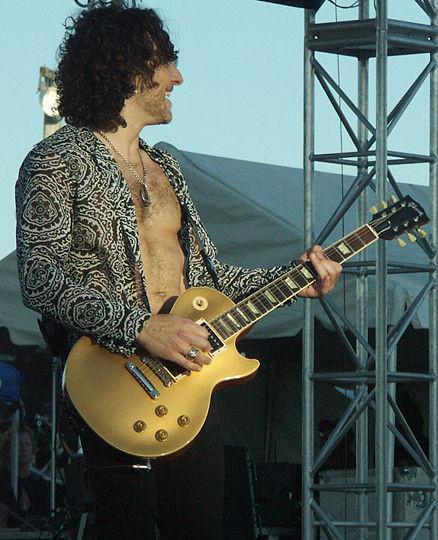 Click the gear images for more info and specs at Musician's Friend
Guitars
Gibson Les Pauls (his current axe of choice)
- Gibson 1978 Les Paul Custom (Silver Sparkle color, Dimarzio Super Dist pickup in bridge)
- Gibson 1998 Les Paul Standard, 70's reissue (purprle sparkle color with Dimarzio Super Dist pickup in bridge)
- Gibson 1997 Les Paul Standard '58 reissue (flame, Dimarzio Super Dist p/u and Fishman Powerbridge)
- Gibson '59 custom shop reissue Les Paul
- Gibson custom shop '56 goldtop reissue with P-90 pickups (he has Fralins in one of his goldtops)

- Fender '66 Telecaster
- Fender '62 Stratocaster (modified)



- Anderson strats (six of them, used on "Adrenalize" tour)
- Gibson Acoustics
- Kramer Nightswan
- Yamaha AES1500 (blues)
- Gibson L5 Custom

- Gibson dot neck ES-335
- Gibson Les Paul Goldtop Reissue guitar
- Charvel strats with Floyd Rose tremolos
- Yamaha SG1802 guitar
- Aria Pro II guitars





Amps and Cabinets
- Voodoo Amps Platinum Mod Marshall JMP 1 and a V-Plex
- Diamond amps
- Marshall 9200 Power Amps
- Mesa Boogie Power Amps
- Marshall 900 head and 2x12 cab (used at home and blues gigs)
- Fender Deluxe Reverb (some blues recordings)

- Matchless Clubman 35 head through a Vox AC30 cab (blues recording)
- ENGL 4x12 cabinets with Celestion Vintage 30 speakers (x4)

- ENGL 850/100 Tube Power Amplifiers







Effects
- Bradshaw switching system
- Yamaha D-1500
- TC Electronic 2290 stereo delay
- Eventide Omnipressor
- Rocktron chorus
- Tonebone pedal (used with the JCM 900)
- Dunlop Rack Wah and 3 wah controllers for the stage

- ENGL 580 Midi preamp
- Furman PL-Pro D Series II Power conditioners
- Marshall JMP-1 preamp (voodoo amps modded)
- Palmer PDI-05 speaker simulator
- Shure wirless units
- Whirlwind rack selector
- Rockman Acoustic guitar pedal
- Rocktron Hush

- TC Electronic G-Major

- Rocktron Intellifex





Strings and Picks
- Dunlop 13 to 52 gauge guitar strings

- Dunlop metal picks
- Dunlop 1mm Tortex picks (for blues work)