Details

Category: Who Plays What
Last Updated on Wednesday, 06 February 2013 18:12
Published on Monday, 22 March 2010 08:26
Sometimes when a songwriter's voice is so strong it's easy to view their guitar tone as somewhat of an accessory. Anyone who's ever listened to Jeff Buckley's rendition of Leonard Cohen's, "Hallelujah" is probably of a different opinion though. Buckley wasn't just a vocal powerhouse with a near 5 ½ octave range; he was a gifted songwriter and a great guitarist who new how to shape his tone to fit whatever musical masterpiece he wasn't painting. Below you'll find the live rig he used which is largely a conglomeration of what he employed to get his tone in the studio. If you've seen the Grace Around the World DVD you're aware that not much gets lost in translation from studio to stage with Buckley. Oh, and if you're wondering specifically how he gets that shimmery clean sound on Hallelujah it's his '83 Tele plugged into his Fender Vibroverb with a generous amount of hall reverb from the Alesis. Happy picking!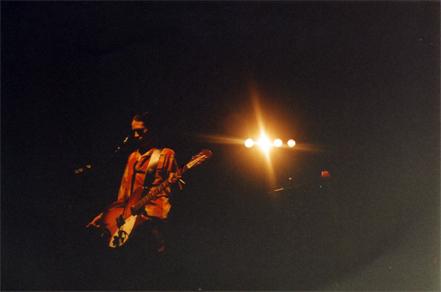 Click the gear images for more info and specs at Musician's Friend
Guitars
- Rickenbacker 360-12 (red sunburst)
- '76 Gibson Les Paul Custom (black)
- '83 Fender Telecaster (cream)

- Ibanez Talman






Amps and Cabinets
- Mesa Boogie Dual Rectifier Combo*
- Fender Vibroverb*
- Mesa 4x12 Cabinets



*Jeff biamped these two live, however his standard approach in the studio was to utilize the Fender for clean tone and the Boogie for his overdrive tones.  He was not stingy with the reverb dial.






Effects Pedals
- Alesis Quadraverb
- Boss Hyper Fuzz pedal
- Boss Hi Band Flanger
- DOD Buzz Box
- Dunlop Tremolo Volume pedal
- MXR Fuzz Unit

- MXR Blue Box pedal

- Morley A/B Switch Box

- Mesa Rectifier Switch
- Boss Chromatic Tuner

Strings
- Dean Markley Blue Steel electric guitar strings (gauge?)