Details

Category: Who Plays What
Last Updated on Friday, 01 March 2013 15:56
Published on Monday, 08 February 2010 09:33
Tom Maxwell is a modern metal/rock guitarist in the bands Knives Out! and Hellyeah. Previous bands include Nothingface and in the 1980s Have Mercy.

Let's take a look at some of the gear and equipment that has been seen in Tom's guitar rig.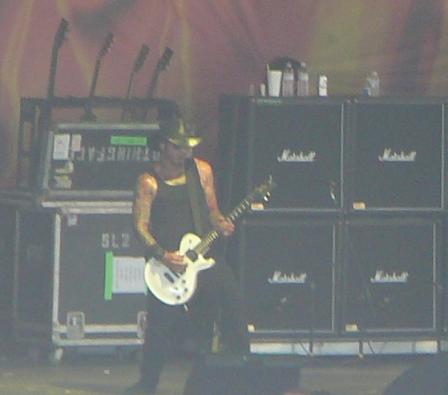 Click the gear images for more info and specs at Musician's Friend
Guitars
- Dean signature Tom Maxwell MAXHELL "THE GENERAL" guitar

- Dean USA Soltero (Mohogany body with maple top. Seymour Duncan 59 and JB pickups)




- Dean EVO guitars (his is black)
- Dean MaxHell Soltero custom guitar
- Washburn Custom TM4 guitars (Seymour Duncan PAF pickups)
- Gibson Les Pauls (including a gold top with P-90's)







Amps and Cabinets
- Marshall JCM800 2203 heads (1980 and 1982, tubed with Groove Tube 12AX7C Preamp tubes and 6550R Power tubes)

- Randall XL 4x12 Straight Cabs with Celestion Vintage 30 Speakers

- Egnater Armageddon heads







Effects
- Peterson Strobostomp tuner
- Morley A/B/Y Switcher

- Boss NS-2

- Furman Power Conditioner
- Korg DTR2 Rack Tuner
- Ibanez TS-9 pedal

- Boss DD-3 and DD-5 pedals

- Boss CE-5 Chorus Ensemble
- Dunlop 535 Chrome Wah or Dime Wah from Hell
- Calzone Pedal Board
- Voodoo Lab Pedal Power








Strings, Picks and More
- DR Electric strings gauges .011, .014, .018, .036, .052, .070
- Dunlop Green Tortex Pick, custom print on it

- Monster Cables