Details

Category: Who Plays What
Last Updated on Thursday, 07 February 2013 16:30
Published on Wednesday, 06 January 2010 08:50
Jonny Lang is a Grammy Award-winning American blues, gospel, and rock singer, songwriter and recording artist.

Let's take a look at some of the gear and equipment that has been seen in Jonny's guitar rig.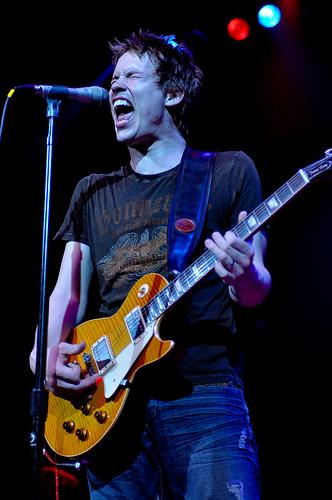 Click the gear images for more info and specs at Musician's Friend
Guitars
- Fender Custom shop Telecaster Thinline (with Bill Lawrence 500L and 500XL pickups, and a Seymour Duncan p-90 in the middle position.)
- Benedict Guitars (early career)
- 1958 Gibson custom shop Les Paul reissue (his is a flamed light colored les paul)
- Martin Jonny Lang Limited Edition Signature model guitar (made in 2000)
- Fender Telecaster (creme/white)




Amps
- Fender Tonemaster Head and 4x12 tonemaster cabs
- Fender Deluxe Reverbs

- Fender Vibroking amps








Effects and More
- Vox V847 Wah pedal

- Ibanez TS-9

- Z-Vex super hard-on

- Hughes and Kettner Rotosphere

- Boss TU-2 Chromatic tuner

- Electro Harmonix POG

- Dunlop Jimi Hendrix Fuzz face

- Visual Sound V2 Route 66 Overdrive

- Korg Rackmount tuner
- Fender black leather guitar strap
- Dunlop Tortex purple picks






Thanks to musicislife4567 for research.