Details

Category: Who Plays What
Last Updated on Tuesday, 23 October 2012 15:59
Published on Wednesday, 25 November 2009 10:41
Neil Young is one of the most famous musicians of all time. His guitar rig is filled with vintage gear that would make most musician's drool.

Let's take a look at some of the gear and equipment that has been seen in Young's guitar rig.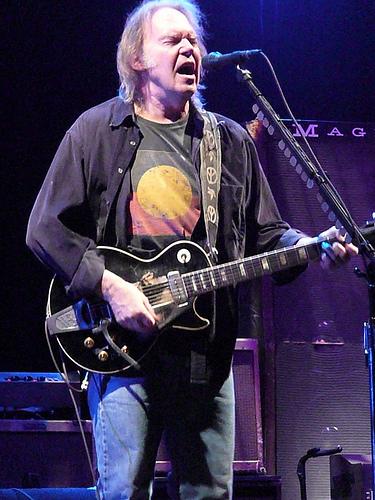 Click the gear images for more info and specs at Musician's Friend
Guitars
- 1953 Gibson Les Paul Goldtop that is painted black. Bigsby tremolo. P90 in neck. Firebird pickup in bridge. ("Old Black")
- 1961 Gretsch White Falcon

- 1956 Gibson Les Paul Junior

- 1953 Gibson Les Paul Goldtop (with Bigsby)
- Martin D-28 "Hank", early 40's (once Hank Williams')

- Martin 1968 D-45

- Martin D-28 '62
- Taylor 855 12-string
- Gretsch 6120

- Gibson Flying V

- Fender Broadcaster








Amps and Cabinets
- '59 Fender tweed Deluxe amplifier (6L6 tubes)

- Fender Tremolux



- Magnatone 280 with stereo vibrato
- Magnatone Speaker Cab
- Fender Twin
- Mesa Boogie Bass 400
- Whizzer boxes - motrized device used to adjust the amp volume and other settings




Effects and More
- pedalboard made out of red painted wood. (also controls whizzers)
- Fender Reverb unit
- Mu-Tron octave divider
- MXR Analog Delay
- Boss Flanger (in blue box)
- Echoplex
- Shure SM57 mics (used on the amps)

- Sennheiser 409 mics (used on the amps)
- Alesis Microverb




Strings and Picks
- D'Angelico 80/20 Brass acoustic guitar strings .012-.054 gauge
- Dean Markley Super V electric strings .010-.046 gauges
- Herco nylon Gold Flex 50 picks