Details

Category: Who Plays What
Last Updated on Thursday, 24 January 2013 17:40
Published on Thursday, 06 August 2009 09:10
Roope Latvala is a Finnish guitarist who plays with the bands Children of Bodom and Sinergy. He was one of the founding members of Stone, which was a mega band in the Finnish heavy metal scene.

Let's take a look at some of the gear and equipment that has been seen in Roope's guitar rig.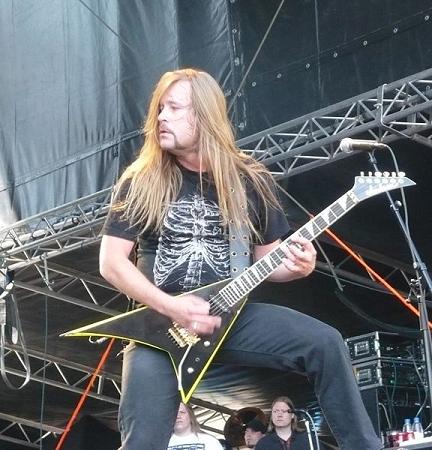 Click the gear images for more info and specs at Musician's Friend
Guitars
- ESP Custom Roope Latvala signature model guitars (EMG HZ H2 pickup)

- 1987 Jackson RR Custom (Black with Yellow Pinstripe)
- 1987 Jackson RR Custom (White)
- 1990 Jackson RR Custom (Black) (RR1 pic below)

- ESP Strat shaped guitar
- Charvel 1 guitar
- USA B.C. Rich Warlock
- Yamaha Classical Guitar




Amps and Cabinets
- ENGL Amplifiers (listed on ENGL site)

- VHT Two/Ninety/Two Stereo Power Amp (note, VHT company is now called Fryette)

- ENGL 4x12 Straight cabs with Celestion Vintage 30 speakers

- Has also used Marshall JCM900 cabs







Effects and More
- Alesis Quadraverb Multi-FX processor
- RSP Technologies 2400 Multiband Enhancer
- Lee Jackson GP-1000 Tube Preamp
- Shure UHF Marcad Diversity Wireless
- Samson Powerbrite Pro 9




Strings and Picks
- DR Tite-Fit strings gauges 12, 15, 20p, 32, 42, 52

- Dunlop brass picks