Details

Category: Who Plays What
Last Updated on Tuesday, 07 January 2014 17:08
Published on Thursday, 30 July 2009 09:13
Guthrie Govan is a guitarist known for his work with the bands Asia (2001-2006), GPS, The Young Punx and The Fellowship as well as Erotic Cakes. He is also a guitar instructor and was once the winner of a "Guitarist of the Year" competition by Guitarist magazine.

Let's take a look at some of the gear and equipment that has been seen in Guthrie's guitar rig.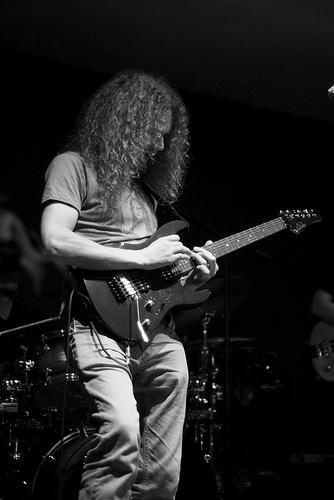 Click the gear images for more info and specs at Musician's Friend
Guitars
- Charvel custom guitars (made the move in 2012. Seen with a solid Koa model)
- Suhr Guthrie Govan Signature Model (mahogany)
- Three custom Suhr Standards
- Suhr Classic and Classic T guitars with SSC
- Suhr 24-Fret Modern
- PRS guitars (previously used)
- Vigier fretless Excalibur surfreter




Amps
- Victory amps
- Suhr Badger 30 All-Tube 38w Head
- Suhr 2×12" cab with WGS Veteran 30 Speakers
- Cornford Roadhouse 30 amp
- Cornford oversized 1x12 with V30 and Cornford 4x12 cabs
- Cornford RK100, MK50 and Hellcat amplifiers




Effects
- Analog Man Chorus pedal
- Axess BS-2 Buffer/Splitter
- Ernie Ball VP Volume Pedal

- Eventide Time Factor

- Digitech Whammy pedal

- Dunlop Jerry Cantrell Signature Wah

- Guyatone WR-3 Auto-Wah
- Hermida Zen Overdrive
- Menatone JAC Compressor
- Moonphaser pedal
- Pigtronix Mothership

- Peterson StroboStomp tuner
- Power Bank AC DC power
- Providence Anadime Analog Chorus
- Silver Machine Revolution Wah Mark II
- Suhr Koko Boost
- Suhr Riot pedal (used on fly-in gigs if using a clean amp)
- TC Electronic Polytune

- TC Electronic Flashback Digital Delay (FX Loop)

- TC Electronic Hall of Fame Digital Reverb (FX Loop)

- T-Rex Replica Delay/Echo Pedal

- Xotic AC Booster

- Xotic Robotalk Envelope Filter
Strings and Picks
- Red Bear Big Jazzer Heavy
- Rotosound Roto Yellows .010-.046 guitar strings