Details

Category: Who Plays What
Last Updated on Thursday, 01 November 2012 14:56
Published on Thursday, 23 July 2009 09:43
Richard Kruspe is a German musician and the founder and lead guitarist of the German  Metal bands Rammstein and Emigrate. Richard also played in the bands Orgasm Death Gimmicks and First Arsch.

Let's take a look at some of the gear and equipment that has been seen in Richard's guitar rig.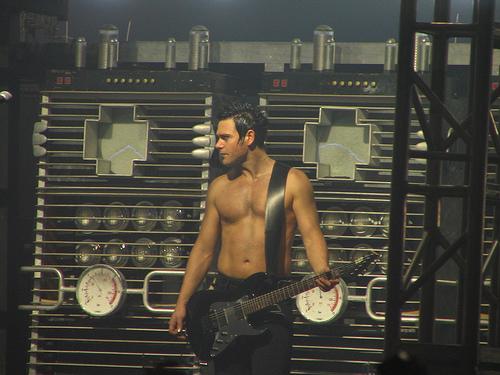 Click the gear images for more info and specs at Musician's Friend
Guitars
- ESP RZK-1 (Richard Z Krupse model). Also was made in an LTD version RZK-600.
- ESP KH-2 (Kirk Hammett model)

- ESP Eclipse I CTM (black, used in 2005 performance)
- Fender Jaguar (Emigrate cleans)

- Gretsch White Falcon (Emigrate cleans)

- ESP Eclipse-II (vintage black)

- ESP Deluxe EC-1000

- TAKAMINE EF341SC



Pickups
- DiMarzio D Activator pickups (recently switched into all his guitars)

- EMG 81 pickups (stock in bridge and neck of his ESP model)







Amps
- Mesa/Boogie Dual and Triple Rectifiers (according to Voodoo amps site, Richard uses their Platinum Mod)

- 295 Boogie Strategy power amp and also  Simul 2:90's
- Mesa 4x12 Recto cabs and 2x12 guitar wedges
- Rath amps (used in the 90's)




Effects and More
- Mesa Boogie Tri-Axis pre
- ADA preamp
- SansAmp PSA-1

- Custom Audio Electronics RS-10 (pictured with him on stage in 2004)
- Wah pedal (2004 pictured)
- Furman PL-Plus Power Conditioner

- Whirlwind MultiSelector (rack)
- Dunlop Crybaby DCR-ISR Rack Wah

- Custom Audio Electronics 2x4 audio controller and System Power Supply
- T.C. Electronic G-Force

- Korg DTR-1 rack tuner
- Drawmer Dual DS201 Noise gate



- Shure SM7 and Neumann TLM49 (vocals on Emigrate)

- TC Electronic Nova Delay

- TC Electronic Nova Dynamics
- Carl Martin Chorus xII

- Carl Martin TremO'vibe pedal

- Carl Martin The Fuzz pedal
- MXR Smart Gate

- SC1 Midi Controller
- Sennheiser Wireless units
- MXR Carbon Copy

- EBS MultiDrive pedal