Todd Rundgren is an American musician, singer-songwriter and record producer. Todd has been in many great bands over the years, including Woody's Truck Stop, Nazz, and Utopia.

Todd is a favorite at UberProAudio. You definitely should check him out if you haven't had the chance to hear him yet.

Let's take a look at the gear and equipment that Todd has been seen using in his 2009 guitar rig.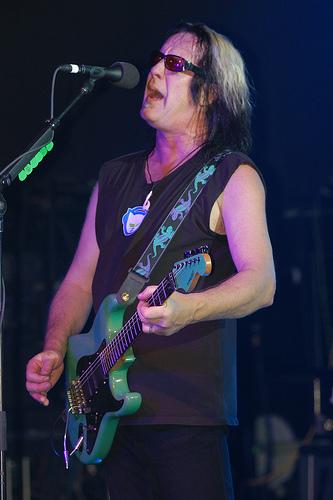 Click the gear images for more info and specs at Amazon

Guitars
- Fernandes P-Project Strat style w/ active electronics (aka "Foamy". foam green with black pickguard)
- Babicz Acoustic Guitar (as seen on Babicz website)
- Ibanez electric guitar
- Veleno Ankh guitar
- Gibson SG "Fool" guitar



Amps
- Line 6 Flextone III with a 2 x 12

- Line 6 AX2




Effects and other
- Line 6 foot controller (4 button)
- Bose Cylindrical Radiators monitors
- Dunlop Tortex .88mm green guitar picks