Details

Category: Who Plays What
Last Updated on Thursday, 14 March 2013 21:13
Published on Friday, 22 May 2009 08:46
Eric Peterson is one of the founding members of the US thrash metal band Testament. Eric has also formed a side-project black metal band called Dragonlord, in which he plays guitar and also sings.

Let's take a look at some of the gear and equipment that has been seen in Eric's Testament guitar rig.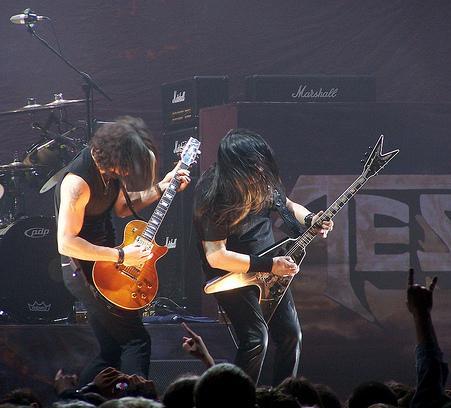 Click the gear images for more info and specs at Musician's Friend
Guitars
- Dean Eric Peterson Signature Old Skull V

- Dean Eric Peterson Hunter V Electric Guitar

- Dean Michael Schenker V (standard pictured below)

- Dean Time Capsule
- Dean Cadillac

- Gibson Flying V

- Gibson Les Paul (black with gold hardware)
- Gibson Les Paul (white with gold hardware and EMG pickups)

- Gibson Custom Marc Bolan Les Paul

- Harmony Holiday bobcat
- Gibson Hummingbird


Eric has been using Dean guitars since 1997


Pickups
Sig V: EMG 85 & EMG 81

Time Capsule: Dimarzio Super Distortion Zebras

Cadillac: Seymour Duncan '59 (sh-1n neck) & jazz (sh-2 middle), jb (sh-4 bridge)






Amps and Cabinets
- EVH 5150 III Amplifier Heads

- Marshall JVM210H amplifier head


- Mesa 4x12 Recto Cabinets loaded with Celestion vintage 30s





Effects and More
- Dunlop Dimebag Cry Baby from Hell Wah

- Dunlop ZW-45 Zakk Wylde Crybaby wah

- Boss TU-2 Tuner

- MXR EVH Flanger

- MXR Stereo Chorus

- Monster Cable

- TC Electronic Nova Delay (keeps it on at 500ms most of the time)

- MXR EVH PHase 90

- Lovepedal Englishwoman fuzz
- Ibanez TS9

- MXR Wylde Black Label Chorus pedal





Strings and Picks
- Dunlop electric guitar strings
- DR strings
- Dunlop Purple & Green sharp picks