Details

Category: Who Plays What
Last Updated on Monday, 13 January 2014 16:27
Published on Thursday, 14 May 2009 09:10
Jason Hook is a guitar player in the band Five Finger Death Punch. But Jason has played in all sorts of great bands including Alice Cooper, Bulletboys, Stephen Pearcy, and Vince Neil. Jason also has recorded his own solo album.

Let's take a look at some of the gear and equipment that Jason has been seen using in his guitar rig.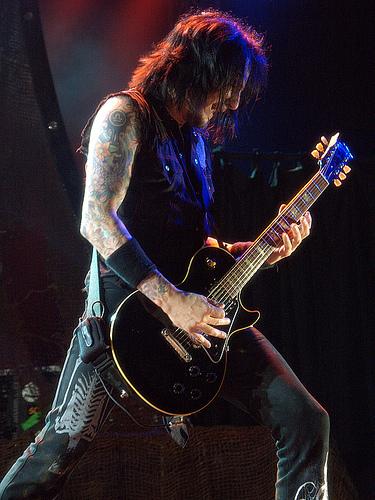 Click the gear images for more info and specs at Musician's Friend
Guitars
- RS Guitarworks custom Hooker Guitar
- ESP/LTD EC-1000 ("Huey" - custom graphics)

- Homemade "Sherwood" guitar
- Gibson 2004 Iced Tea Burst Les Paul Standard
- Gibson 1988 Black Les Paul Standard
- Gibson 1991 Black on Black Les Paul Standard
- Gibson 2005 Les Paul Custom
- Gibson Explorer guitars - white 2008, black 2005, and natural colored ones

- Gibson 2005 '61 Reissue SG
- Gibson 2007 Wine Red ES-335

- Godin LG
- Godin LGX-SA Synth Access
- Godin Acousticaster
- Fender USA Telecaster (Lake Placid Blue)

- '75 Fender Strat Reissue
- Fender Custom Shop Strats (Powder Blue, maple neck) and (Sunburst, rosewood neck)
- '89 Fender Strat HRR

- '78 Ibanez Iceman and IC400 guitars

- '99 Takamine "Springsteen" Signature Acoustic
- Gibson J-50 Acoustic
- Gibson Hummingbird

- Ibanez Xiphos 7 String (with EMG's)

- Jackson Randy Rhoads

- Taylor Baritone acoustic
- ESP George Lynch signature Kamikaze (leads on the 2011 FFDP album)





Amps and Cabinets
- Marshall 9200 Dual Monoblock 100/100 watt Power Amps (Voodoo Amps modded. x2)
- EVH 5150 III amp (used with the 1959SLP on the 2011 FFDP album)

- Marshall JVM410H amplifier head

- 1986 Marshall JCM800 100w head

- Marshall Straight 1960B cabs with Celestion Vintage 30 speakers (x4)

- 1959SLP Marshall Plexi 100w Reissue (Voodoo amp platinum mod)

- 1977 Marshall JMP 100w
- Randall RM100 head (SL+ module preamps)
- Voodoo Lab Ground Control Pro

- Voodoo Lab GCX Audio Switcher

- Furman P-1800 PF R Power Conditioner
- Audio Technica AEW-R5200 Wireless
- Tour Supply Multi-Selector
- Marshall JMP-1 Preamp (Voodoo Amps modded)
- ISP Prorack G Decimator Noise Gate

- TC Electronic G-Major 2 Guitar Effects Processor

- Line 6 Mod Pro
- Line 6 Echo Pro
- MXR / CAE MC401 Boost/Line Driver

- MXR / CAE MC403 Power System
- TC Electronic Rottweiler
Jason also has the following pedals that have been pictured in his rig before:
- Bradshaw controller
- Dunlop Crybaby wah pedal

- Ernie Ball Volume pedal

- Boss TU-12H



- Voodoo Lab Pedal Power 2 Plus

- Line 6 DL4 (also has the rack version)

- MXR Phase 90

- Boss Super Overdrive

- Boss Octave pedal

- Digitech Whammy

- Boss TU-2

- Line 6 MM4 (also has the rack version)

- Visual Sound Route 66 American Overdrive Pedal

- Furman Power Conditioner
- Boss Compressor/Sustainer pedal

- Boss Delay pedal

- Whirlwind Multi Selector
- MXR M135 Smart Gate pedal



Strings and Picks
- Dunlop Tortex TIII (T3) sharp Picks

- Dunlop Tortex Pitch Black picks

- Dunlop Heavy Core electric guitar strings

- In Tune .88 Grippx with custom graphics
- Dunlop custom set of strings gauges 13, 17, 24w, 38, 50, 70