Details

Category: Who Plays What
Last Updated on Tuesday, 13 November 2012 18:14
Published on Tuesday, 03 March 2009 12:18
Jeff Stinco is a canadian musician best known as the lead guitar player in the pop punk band Simple Plan. Jeff has a pretty large pedalboard and guitar rig.

Let's look at some of the gear and equipment that has been seen in Jeff's guitar rig.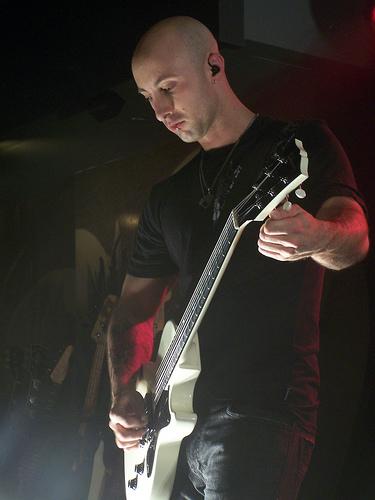 Click the gear images for more info and specs at Musician's Friend
Guitars
- Gibson Les Paul Standards and Customs (black and white)
- Stevenson guitars
- Gibson ES-335

- Gibson Les Paul Junior (white)

- Fender blacktop Telecaster

- black Fender Telecaster with two humbuckers (Fender American Deluxe Telecaster HH)

- black Takamine acoustic
- Listed on Dimarzio as using: - Air Norton, Air Zone, Area 67, Area 61, Injector Bridge, and PAF 36th Anniversary pups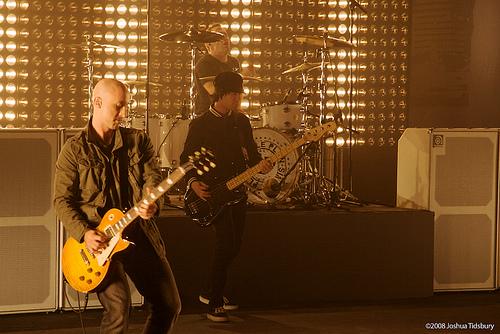 Amps and Cabinets

According to the Mesa site:
- Mesa Boogie 4X12 Traditional Recto Cab - Straight - Red Bronco
- Mesa Boogie Lone Star 2x12 Combo
- Mesa Boogie Dual Rectifier Solo Head
- Mesa Boogie Road King Head

- VOX AC30/6TBX

- Divided by 13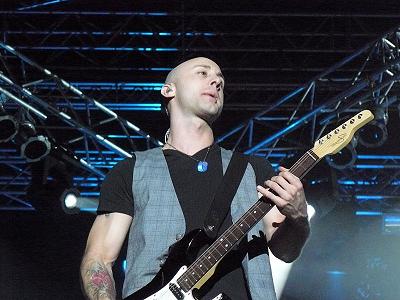 Effects and More
- Lovepedal Eternity Overdrive pedal
- Xotic RC Booster

- Boss TU-12H Tuner

- Ernie Ball Volume pedal

- Fulltone Choralflange
- MXR EVH Eddie Van Halen Phase 90

- Fulltone Mini Deja Vibe

- T-Rex Replica Delay/Echo Pedal

- Ibanez TS-9 Tube Screamer

- Boss DD-20 Giga Delay

- Boss TR-2 tremolo pedal

- Axess Electronics MFC5 Midi Footcontroller
- Dunlop SW-95 Crybaby Slash Wah Pedal

- Boss CS-1 (not 100% sure on this)
- Vox Tonelab

- Eventide Eclipse

- Eventide TimeFactor Twin Delay

Strings and Picks
- D'Addario EXL-140 guitar strings

- Dunlop green Tortex picks