Details

Category: Who Plays What
Last Updated on Friday, 28 September 2012 18:21
Published on Thursday, 29 January 2009 12:44
Jeff Beck is an english rock guitar player. He was one of the famous guitarists in the band the Yarbirds. Jeff Beck doesn't have a huge guitar rig, but is well known for amazing guitar sounds.

Let's look at some of the gear and equipment that has been seen in Jeff Beck's guitar rig.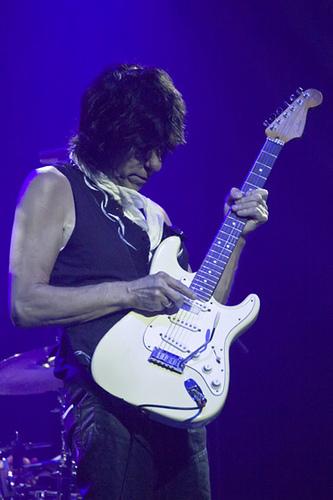 Click the gear images for more info and specs at Musician's Friend
Guitars
- Fender Jeff Beck Custom Shop Stratocaster

- Fender Jeff Beck Artist Series Stratocaster

- Fender Esquires (Fender custom shop made a Jeff Beck Esquire also)

- Gibson Jeff Beck 1954 Les Paul Oxblood (only a small amount made, based on Jeff's 'oxblood' les paul). Jeff's original 'oxblood' Gibson was a 54 Goldtop that he had repainted in a brown and had the P90 pickups swapped for fullz size humbuckers
- Gretsch Duo Jet
Amps and Cabinets
- Marshall JTM45 amp head

- Marshall JCM 2000 DSL50 amps
- Marshall 4x12 cabinets (looks like 1960BX cabs)

- Vox AC30's (Yarbirds)

- Fender Twin Reverbs (Fire and Fury tour)

- Fender Pro Junior amp (tweed)





Effects and More
- Peterson Strobostomp tuner
- Hughes & Kettner Rotosphere

- Boss Line Selectors LS-2

- Boss Flanger BF-2

- Maestro Ring Mod
- EBS Octabass
- Voodoo Lab Pedal Power 2

- Whirlwind A/B

- Pro Co Rat pedal
- Colorsound Overdrive pedal (in the 70's)
- Klon Centaur Overdrive
- Digitech GSP21 Legend


Strings
- Ernie Ball strings. Believed to be about .011, .013, .017, .028, .038, .049. gauge strings

Note: Jeff picks with his bare fingers