Details

Category: Who Plays What
Last Updated on Tuesday, 12 March 2013 19:55
Published on Tuesday, 20 January 2009 09:57
Tom DeLonge has been the guitarist and singer in many popular bands, most famous being Blink 182. Tom also did a side project with Travis Barker called Box Car Racer. In 2005 Tom started the band Angels and Airwaves (aka AVA).

Let's look at some of the gear and equipment that has been seen in Tom's guitar rig over the years.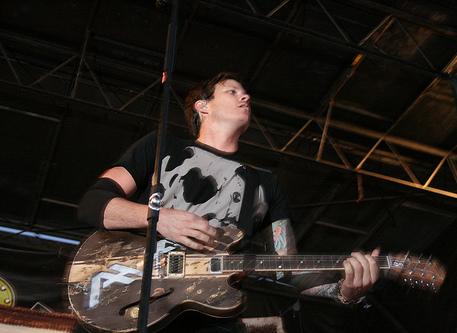 Click the gear images for more info and specs at Musician's Friend
Guitars
- Gibson Tom Delonge signature ES-333 guitars (has a Dirty Fingers pickup in bridge and no neck pickup) There is also an epiphone model, pictured below


- Fender Custom Shop strats (including Tom Delonge signature model)
- Fender Tornado's
- Fender Jagmaster
- Gibson Les Paul Standard (Black)
- Fender Fat Stratocaster (Seymour Duncan Invader Pickup)

- Taylor acoustic guitars (614ce, etc...)
- Vox AC30 (x2 for dirty)

- Fender Twin Reverb amps (x2 for clean)

- 1x12 Orange combo amp
- Mesa/Boogie Triple Rectifier
- Marshall JCM900
- Mesa 2x12 and 4x12 cabinets





Effects and More
- Shure UHF wireless systems
- Furman Power Conditioner

- Palmer PGA4 Speaker Simulators
- T.C Electronics G-Force Multi Fx Unit

- Digital Music Corp GCX Switcher/Router

- Marshall JMP1 Midi Pre-Amp
- Mesa Boogie Tri-Axis Midi Preamp
- Mesa Boogie Simulclass 2:90 Preamp
- Marshall EL34 100/100 Power Amp
- Custom Audio Electronics footswitch
- Korg Rack Tuner
- Moog Voyager RME
- Korg Kaoss Pad

- Dunlop DC Brick

- Alesis Micron Synth
- Whirlwind A/B box

- Fulltone Fulldrive (x2)

- MXR EVH flanger

- MXR phaser

- Boss DD-6 Digital Delay

- Electro-Harmonix Micro Synth guitar pedal

- Line 6 Constrictor
- Fulltone OCD

Strings, Picks and More
- Ernie Ball "Skinny Top, Heavy Bottom" .010 - .052 gauged strings

- Dunlop .60mm Tortex Standard picks

- Jim Dunlop Curved Capo C-4 - used on his hollowbody. (Thanks to Ian for the research on this)