Details

Category: Who Plays What
Last Updated on Wednesday, 24 October 2012 16:25
Published on Monday, 19 January 2009 14:11
Warren Haynes is an American rock and blues guitarist, vocalist and songwriter of Gov't Mule and long time member of the Allman Brothers Band. Haynes also created and runs Evil Teen Records.

Let's look at some of the gear and equipment that has been seen in Warren Haynes'  guitar rig.

Note: Warren's rig varies depending on which band he is playing with, but the following makes up much of the various gear he owns that is available to him for his guitar rig.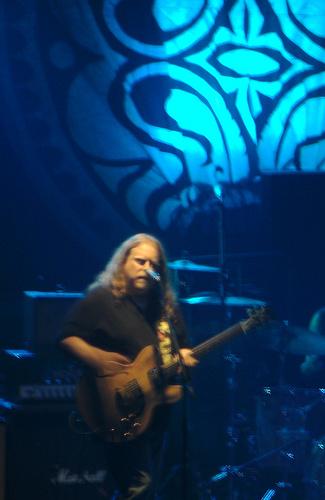 Click the gear images for more info and specs at Musician's Friend
Guitars
Note: Gibson made a "Inspired by Warren Haynes" Les Paul Standard '58 guitar
- Gibson ES-335 guitars ('61 dot neck, red, etc...)

- Gibson '67 ES-355 from Gregg Allman
- Gibson 1989 '59 Reissue Les Paul (Duncan Pearly Gates pickup in it)
- Gibson mid-'90s '58 Reissue Les Paul (Duncan Antiquity humbucker in the bridge position)
- Gibson 1998 '59 Reissue Les Paul (Duncan JB in the bridge)
- Gibson 1964 Firebird III (Alnico II Pro Mini-Humbucker in the neck)
- Gibson 1997 tobacco sunburst Firebird (Alnico II Pro Mini-Humbucker in the bridge)

- Gibson non-reverse Firebird (P-90 in the bridge)
- Gibson Explorer

- Gibson 12-string Les Pauls
- Gibson 2000 SG-61 and other Sg's
- Gibson '58 Les Paul TV Special

- Gibson and Alvarez acoustic guitars
- D'Angelico New Yorker guitar
- Gibson Custom Shop Firebird (Korina wood, non-reverse, mini-humbuckers, blue with white pickguard. Built in 2009)
- Gibson Custom Shop Firebird (banjo tuners, purple)
- Also has some Fenders, Epiphones, but mostly Gibson guitars




Amps and Cabinets
- Paul Reed Smith amps (original Dallas head, Super Dallas, 25th anniv head, single 12" 30 combo) and cabinets (paisley)

- Soldano SLO-100 head

- Caesar Diaz CD-100 amp
- Marshall Super Lead Plexi reissue 100 watt head

- Custom Audio Electronics head made by Bob Bradshaw
- Fender Super Reverb

- Gibson Goldtone GA-30RVS 2x12 amp
- Engl Cabinets

- Marshall Cabinets
- Tone Tubby 4x12 cabinet


Fun Fact: There is a Soldano amp mod called the "Warren Haynes mod"



Effects and More
- Bob Bradshaw's switching systems
- Boss OC-2 Octaver

- two-speed stereo tremolo made by Bob Bradshaw
- Cesar Diaz Texas Tone Ranger pedal
- Klon Centaur distortion
- Hughes & Kettner Rotosphere Leslie simulator

- Dunlop Crybaby wah

- Guyatone Funky Box envelope filter
- DiscumBOBulator
- Chandler Echo
- Ernie Ball volume Pedal

- Jimi Hendrix Fuzz
- Diaz Tremodillo or Tone Ranger (eye witness report not sure which)
- Variac power soak on his amps at about 115 volts



Strings and Picks
- GHS Strings .010-.046 gauge, .011-.050 gauges, and also .010-.058 sets

- Gibson Star Picks (no longer made the way he likes them)
- D'Andrea 347 HV ABA CX picks (same shape and gauge as the start picks)

- Coricidin bottle for slide