Details

Category: Who Plays What
Last Updated on Tuesday, 05 March 2013 21:03
Published on Sunday, 24 August 2008 16:16
Pepper Keenan is the vocalist and rhythm guitarist for the Heavy metal band Corrosion of Conformity. He also plays guitar for the band Down, alongside Crowbar vocalist/guitarist Kirk Windstein and former Pantera vocalist Phil Anselmo and bassist Rex Brown, repectively.

Let's look at some of the gear and equipment that has been seen in Pepper's guitar rig.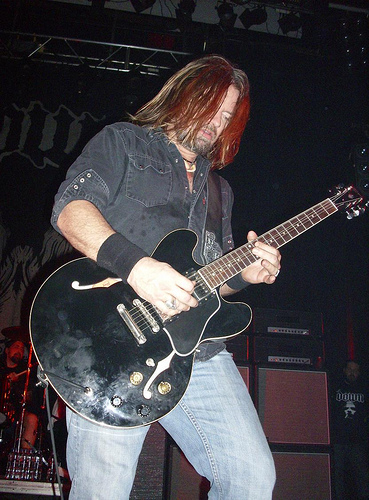 Click the gear images for more info and specs at Musician's Friend
Guitars
- ESP Custom Shop SG
- ESP Viper Baritone Guitar
- Gibson ES-335 (his is black)
- Gibson Firebird guitar

- Fender Stratocaster Custom Shop
- Fender Telecaster




Amps and Cabinets
- Orange Thunderverb 50 amplifier heads

- Orange 4x12 cabinets

- Mesa Boogie 50 caliber plus heads

- Marshall JCM800 (according to one of your comments)

- Marshall 1960 4x12s with Celestion greenbacks





Effects and More
- Electro Harmonix Holy Grail Reverb

- Electro Harmonix POG Polyphonic Octave Generator

- Electro Harmonix Big Muff Pi

- Electro Harmonix Small Stone Phase Shifter

- MXR Phase 90

- T-Rex Replica delay pedal

- Voodoo Lab Pedal Power 2 plus

- Boss OD-1

- Boss Flanger

- Korg Tuner pedal (he has one similar to the pitchblack below)

- Dunlop Crybaby Wah pedal

- Ibanez TS9 Tube Screamer

- MXR 6-band EQ

- Rocktron Intellifex multieffects processor
- Sony wireless system
- CAE midi controller pedal



Strings and Picks
- Dean Markley Blue Steel LTHB & Mediums sets (according to Markley website)
- Dunlop green Tortex picks .88mm