Details

Category: Who Plays What
Last Updated on Monday, 06 January 2014 19:56
Published on Wednesday, 16 July 2008 12:40
J.D. Cronise is an American musician and leader of the heavy metal band The Sword. Born in Roanoke, Virginia, Cronise is a lead guitarist, vocalist, producer and principal songwriter for The Sword, which he formed in Austin, Texas in 2003. If you haven't heard the sword, check them out - they'll remind you of classic metal like Black Sabbath.

Let's look at some of the gear and equipment that has been seen in The Sword's frontmans guitar rig.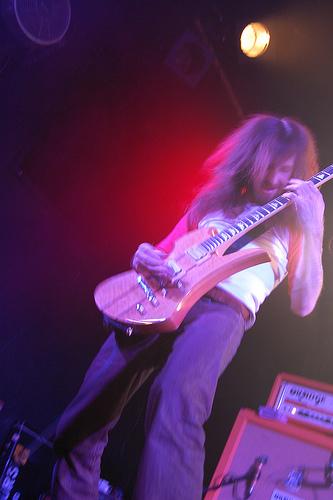 Click the gear images for more info and specs at Musician's Friend
Guitars
- '79 Gibson Explorer II, which is loaded with a DiMarzio Super Distortion pickup in the bridge
- BC Rich Exotic Classic Mockingbird guitar
- Gibson Les Paul Custom (wine red)





Amps and Cabinets
- Orange Rockerverb 100
- Orange AD140
- Orange OR80 amplifier (EL34 tubes and aftermarket output transformer)
- Orange 4x12 PPC 412 HP8 cabs with black tolex

- Marshall 4x12 cab loaded with 70-watt Celestions (recording)





Effects and More
- Electro-Harmonix Metal Muff (used for distortion)
- Rocktron Hush

- MXR Phase 90

- MXR Flanger

- Boss TU-2 Tuner Pedal

- Dunlop DC Brick to power the pedals

- Lehle ABY switch

- MXR Carbon Copy

- Electro-Harmonix Micro Synth pedal




Strings and Picks
- Ernie Ball strings gauged .010-.052

- Dunlop heavy picks