Details

Category: Who Plays What
Last Updated on Thursday, 14 March 2013 17:32
Published on Monday, 14 July 2008 13:50
Matt Pike is an American rock musician best known as the guitarist of the influential doom metal band Sleep and frontman of High on Fire. While largely unknown in the mainstream rock press, he is viewed by some in the underground metal scene as a cult hero.

Let's look at some of the gear and equipment that has been seen in Matt Pike's High On Fire guitar rig.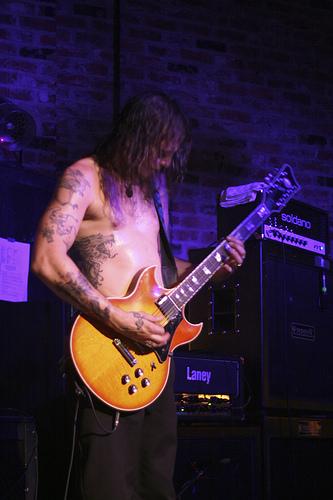 Click the gear images for more info and specs at Musician's Friend
Guitars
- Gibson Les Paul Supreme (white)
- First Act nine-string double cutaway guitar (also has a 6-string)
- Gibson Les Pauls (inlcuding cherry-sunburst standard)
- Takamine 12-string acoustic-electric (not sure model)

- custom McNaught (only used in the studio)
- Seymour Duncan pickups - SH-4 and SH-6

- Lace Sensor Matt Pike Signature Dirty Hesher pickups
Amps and Cabinets
- Blackstar Series One 100 and 200 Amp heads (High Voltage Festival and more)

- Soldano Preamp and Soldano SLO-100

- Laney VH100R head. Laney site also says he's used GH100L, GS412IA, GS412IS
- Matamp "Green" cabinets
- Emperor 4x12 cabinets (custom built)
- Marshall Kerry King JCM800 (used with a Soldano SOL on Snakes of the Divine)

- Has also used  Orange, Marshall (SIlver Jubilee), Sunn and Hiwatt amps

Effects
- Boss TU-2 tuner pedal

- MXR Blue Box

- MXR KFK 10-band EQ

- MXR Super Comp

- MXR Carbon Copy

- Dunlop DC-Brick power supply

- Volume pedals
- D*A*M Sonic Titan pedal
- Black Arts Toneworks Pharaoh Fuzz
- MXR phaser (not sure model)

- Pigtronix Fat Drive pedal

- Rocktron octave/fuzz (vintage pedal)





Strings and Picks
- custom Ernie Ball strings gauge .012 - .056

- DR strings (listed in Guitar World mag as a user)
- Dunlop .73mm Tortex picks