Details

Category: Who Plays What
Last Updated on Wednesday, 30 January 2013 18:54
Published on Sunday, 11 May 2008 18:14
Joe Trohman is the Lead Guitarist of the Chicago-based band Fall Out Boy. Joe is well-recognized for his energetic live performances and his signature spin move (AKA Trohmania). Joe was a foundinbg member of Fall Out Boy in 2001. His rig isn't overly complicated and that's how he likes things live.

Let's look at some of the gear and equipment that has been seen in Fall Out Boy guitarist Joe Trohman's guitar rig.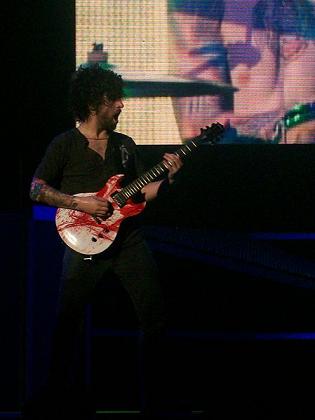 Click the gear images for more info and specs at Musician's Friend
Guitars
- Squier Joe Trohman Telecaster

- Washburn Joe Trohman Signature Model Idol Guitars
- Washburn stock Pilsens and stock Idol 66PROs
- Gibson Les Paul
- Fender Telecasters ('63 relic, HH-Series teles, etc..)
- Washburn Scott Ian MurderWeapon
- Les Paul Junior

- Gretsch
- Dimarzio pickups (has used Fast Track T, True Velvet T, and Super Distortions)






Amps and Cabinets
- Bogner Uberschall head(s)



- Mesa Boogie 4×12 Rectifier Cabinet
- Orange 2×12 (for clean/vintage tones) cabinet
Effects and More
- A-B Switcher
- Shure Wireless receiver
- TC Electronic G-Major 2 Guitar Multi-Effects Processor

- Dimarzio ClipLock straps


Strings
- Dean Markley NickelSteel electric LTHB strings .010 to .052 gauge