Details

Category: Who Plays What
Last Updated on Wednesday, 14 November 2012 21:49
Published on Thursday, 08 May 2008 12:53
Andrew Stockdale is the lead singer and guitarist of the Australian band Wolfmother. Stockdale's musical influences include 1960s/1970s hard rock guitarists Jimi Hendrix, Jimmy Page, Ritchie Blackmore and Tony Iommi.

Let's look at some of the gear and equipment that has been seen in Wolfmother guitar player Andrew Stockdale's guitar rig.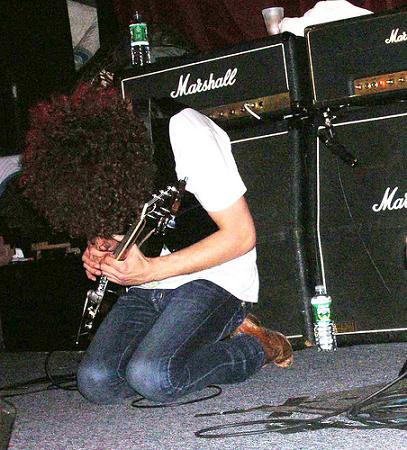 Click the gear images for more info & specs at Musician's Friend

Guitars
- Gibson SG's including a 60's reissue standard with a Bigsby vibrato tailpiece
- Gibson ES-335 guitars (sunburst, black models...)
- white Gibson Flying V

- alpine white Gibson EDS-1275 with golden hardware

- Fender Stratocaster (White colored Mexican-made Model)

- Fender Jaguar




Amps and Cabinets
- Orange AD30 amp

- Orange Thunderverb 200

- Orange PPC412 cabinets

- Marshall non-master volume superleads

- Marshall JCM800

- Marshall Cabs

- Fender Bassman
- Vox AC30 amplifier head

- Engl Ritchie Blackmore head (used on some of Cosmic Egg)



Effects and More
- Boss GE-7

- Boss Tremolo

- Boss Metal Zone

- Boss TU-2 tuner

- Digitech Whammy pedal

- Electro Harmonix Micro Synth

- Electro-Harmonix Small Stone phaser

- Foxx Tone Machine Red
- Fulltone Clyde Deluxe Wah

- Fulltone Supa-Trem Tremolo

- MXR Super Comp

- Roland Bee Baa AF-100 Fuzz/Treble Booster
- Tone-Bone JX-2 (Amp Switcher)

- Xotic AC booster

- Voodoo Lab Pedal Power 2 plus

- Vox Tonebender
Strings
- D'Addario EXL110 Nickel Wound, Regular Light, 10-46 gauge electric guitar strings