Details

Category: Who Plays What
Last Updated on Tuesday, 13 November 2012 18:55
Published on Monday, 28 April 2008 16:34
Dean DeLeo is an American guitarist for the alternative rock band Stone Temple Pilots.

He is also known for his role in the short-lived bands Talk Show and Army of Anyone, which featured his younger brother Robert DeLeo, Filter frontman Richard Patrick, and session drummer Ray Luzier.

Let's look at some of the gear and equipment that has been seen in Stone Temple Pilots guitar player Dean DeLeo's Guitar Rig.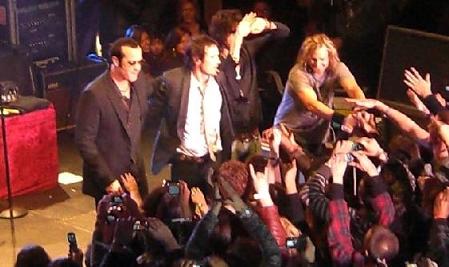 Click the gear images for more info and specs at Musician's Friend
Guitars
Dean has a ton of guitars. Some of them are:
- Three 1978 Les Paul Standards  (black, wine red...)
- 1967 Fender Telecaster

- PRS hollowbody electric

- Gibson J-45 and J-50 guitars
- '57 TV Les Paul Special with P-90's

- Gibson J-100 XT
- Fender Custom Shop Double-Neck Stratocaster
- '57 Fender strat
Amps and Cabinets
- Demeter TGP-3 three-channel preamp
- Rocktron Intelliverb
- VHT Classic stereo tube power amp that runs 50 watts per side

- Vox AC30 /6TBX 2x12 combo amplifier loaded with Alnico Blue Speakers

- two Marshall 4x12 1960A Slant cabinets loaded with Marshall/Celestion Vintage speakers

- '71 Ampeg GU-12 amp
- Gretsch 6159 Bass Amp
- '64 Supro thunderbolt
Effects and More
- Dunlop Cry Baby Wah

- BOSS CE-1 stereo chorus pedal (CE-1 is vintage)
- Rockman MIDI Octopus pedal
- S.I.B. Varidrive



Strings
- Dean is listed as an endorser of SIT guitar strings .10 and .11 gauge