Details

Category: Who Plays What
Last Updated on Wednesday, 13 March 2013 18:41
Published on Monday, 28 April 2008 15:40
Michael Amott is a British/Swedish guitarist, songwriter, founding member of the bands Arch Enemy, Spiritual Beggars, and Carnage, as well as a member of the legendary death metal band Carcass.

Let's look at some of the gear and equipment that has been seen in Michael Amott's guitar rig. Below is a list of the gear Amott has used over the years.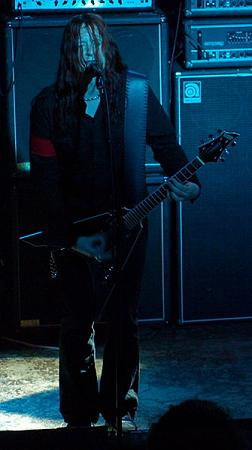 Click the gear for more info & specs at Musician's Friend
Guitars
- Dean USA Michael Amott Signature Tyrant guitar
- Dean Michael Amott Tyrant X Electric Guitar - Black and Splatter models
- Dean Schenker Flame V guitar
- Dean 30th Anniversary V
Note that Michael stopped using ESP in 2008 when he switched to Dean endorsement
- ESP 2008 Ninja (used in the Black Crusade Tour '07/08; 2 versions, one with Floyd Rose tremolo, also 24 frets and 25.5 scale)
- ESP Ninja Michael Amott signature series (previously AV-395 Ninja)
- ESP AV-310MA Flying V models (previous signature model only available in Japan, discontinued)
- ESP Custom F-Series model (seen in Live Apocalypse DVD)
- Ibanez RG 550 (no longer used. Used in Carcass 1990-1992)
- Gibson Les Paul Custom (white, no longer used, seen in the video for 'The Immortal')
- Fernandes "Burny" Les Paul Custom (White, Arch Enemy video 'The Immortal')
- Fernandes "Burny" Les Paul Custom (Black)
- Gibson Les Paul 1957 Goldtop Reissue (seen in the video for 'Bury Me An Angel')



Amps and Cabinets
- Marshall JVM410H amplifier

- Randall V2 ninja amp head
(inspired and designed by Amott)
- Randall rm100m with 2 ultra xl modules and either blackface or deluxe for cleans

- Randall XL Cabinets

- Peavey 5150 (Pre-Doomsday Machine)
- Krank Revolution and Krankenstein (previously used)
- Krank "Revolution" cabs (loaded with Celestion Vintage 30's)

- Peavey XXX amplifier




Effects and More
- BOSS OC-2 pedal

- BOSS TU-2 Chromatic Tuner

- Digitech GSP1101 (Multi effects processor)

- Digitech Control 2 Foot controller

- Dunlop 19" Rack mounted custom Wah DCR-2SR with two remotes on stage

- Dunlop Zakk Wylde wahpedal

- Ibanez AD-9 Analog Delay

- Ibanez TS-808 Tube Screamer

- MXR Phase 90

- Providence PEC-2 Routing System
- Roland SDE-3000 Rack Delay Unit
- Seymour Duncan SFX-01 Pickup Booster
- Shure ULXP4 Wireless Unit
- Rocktron Hush Super C (Noise Gate)

- VOX V847 wah-wah pedal

- ZOOM G9.2tt (Used on demo's for "Rise Of The Tyrant" album 2006-2007)
- Maxon AF-9
Strings and Picks
- Rotosound MAS11 Michael Amott Signature strings gauges 11,15,18,32w,44w,59w
- D'Addario Strings (11-59 custom set)
- has been seen with blue Dunlop tortex pick