Details

Category: Who Plays What
Last Updated on Thursday, 21 February 2013 19:06
Published on Sunday, 27 April 2008 17:05
Paul Romanko is the bass player for the band Shadows Fall. Paul began playing bass when he was 16 years old. He chose bass because everyone else was player guitar and drums. Good thing for us since he kicks a$$ holding the low down for Shadows Fall.

Let's look at some of the gear and equipment that has been seen in Shadows Fall bass player Paul Romanko's Bass Guitar Rig.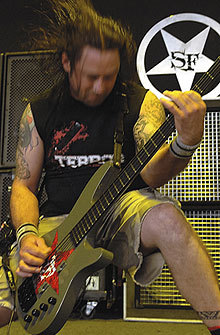 Click the gear images for more info and specs at Musician's Friend
Basses
- Ibanez PBR-1 Paul Romanko Signature bass 

- Ibanez PBR-2 Paul Romanko Signature bass

- Ibanez SRX basses (SRX700 etc...)



Amps and Cabinets
- Hartke LH-1000 head
- Hartke HyDrive 8x10 cab

- Ampeg SVT 3 pro bass amp

- Tech 21 Landmark 600 bass amp

- 2 Tech 21 4x10 speaker cabs
- Ampeg 8x10 speaker cab




Rack and More
- Korg rack tuner
- Tech 21 Sans Amp RBI preamp

- RNC compressor
- Tech 21 Sans Amp Bass Driver DI pedal




Strings and Picks
- DR Strings .045–.105 gauge

- In tune picks .73mm