Details

Category: Who Plays What
Last Updated on Monday, 06 January 2014 20:25
Published on Friday, 25 April 2008 18:05
Matt Tuck plays both rhythm guitar and also lead guitar, as well as being lead vocalist in the metalcore band Bullet for My Valentine. He can also play drums, keyboards, the recorder and harmonica.

Let's look at some of the gear and equipment that has been seen in Matt Tuck's guitar rig.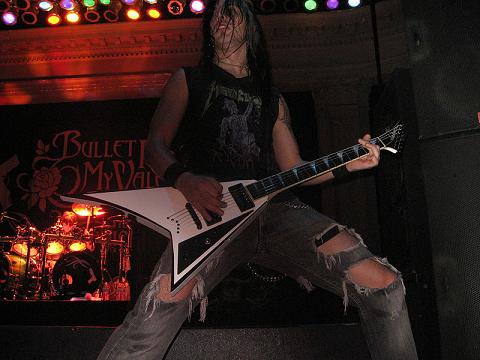 Click the gear images for more info and specs at Musician's Friend
Guitars
- B.C. Rich guitars (switched to these in 2011. Has JR Deluxe V (2 EMG) and a Mockingbird Pro X Hardtail and a white Warlock)
- B.C. Rich Matt Tuck Signature V guitar (silver sparkle paint)
- Jackson Matt Tuck Signature Rhoads Guitar
- Matt Tuck signature Jackson Rhoads model  has EMG 81 pickups

- Jackson RR1T Black one and white one w/black bevels andreverse head

- Jackson RR5 Pro series
- Jackson Kevin Bond Signature (Blood Red Bevels, used live for "Cries in Vain" at Club Quattro)
- Gibson Les Paul Raw Power Standard with EMG 81's(on Scream, Aim, Fire Album)
- Fender Stratocaster American white with maple neck

- Gibson Flying V

- Gibson Les Paul Custom (his guitar is white)
- Epiphone Zakk Wylde Les Paul Custom Bullseye - the white/black bullseye (as stated by the band in a Guitar Edge Interview)

- Taylor acoustic 514CE guitar


Amps and Cabinets
- Diezel VH4 amp
- Two Peavey 6505 Heads in Rack Case (Extra Head is for backup)

- Two Mesa Engineering 4X12 Standard Rectifier Cab-Straight
- Roland Jazz Chorus amp (for clean)

- Laney GH100L amp head



Effects and More
- Ibanez TS-9 Tube Screamer

- 2 Boss NS-2 Noise Suppressors

- Boss TU-2 Chromatic Tuner

- Peavey Channel Switcher
- Morley Bad Horsie Wah

- Sennheiser EW300 Wireless Unit
- MXR Wylde Overdrive pedal

- Whirlwind switcher

- Voodoo Lab Pedal Power

- Ibanez CS9 Stereo Chorus (Maxon CS-9 pic below)

- Line 6 POD X3 Pro (for cleans - replaced the Roland JC amp)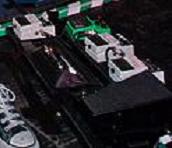 Strings and Picks
- Rotosound Roto blues Strings gauges (.010, .013, .017, .030, .042, .052).052 replaced with a 56

- Dunlop Tortex picks .50mm Red Color (or as one person reported, may be the .60mm ones)