Details

Category: Who Plays What
Last Updated on Tuesday, 22 January 2013 19:04
Published on Monday, 21 January 2008 09:54
Combining shuddering, groove-laden funky soul and folky handcrafted acoustics, singer/songwriter and guitar player Ben Harper enjoyed cult status during the course of the '90s before gaining wider attention toward the decade's end. As a young artist, Harper combined elements of classic singer/songwriters, blues revivalists, Jimi Hendrix, and such '90s jam bands as Blues Traveler and Phish, which meant that he was embraced by critics and college kids alike. Despite the commercial success of the radio single Steal My Kisses" in 2000, Harper continued to explore different musical textures into the 21st century, enjoying a solid fanbase at home and a considerable amount of fame in Europe, where was named 2003's "Artist of the Year" by the French branch of Rolling Stone. Ben is known to often play acoustic guitar and lap steel in addition to electric guitar.

Let's look at what gear and equipment has been seen in Ben Harper's Guitar Rig.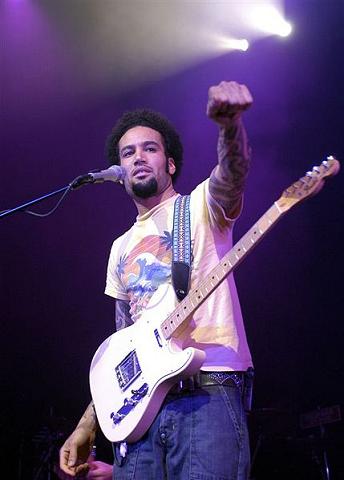 Click the gear images for more info & specs at Musician's Friend
Guitars
Notes: Ben Harper admits he has tons of guitars and loves collecting them. We can't find a ton of
exacts on what's in his collection, but we have an idea
- Martin Ben Harper guitar

- Asher BEN HARPER SERIES II SIGNATURE MODEL LAP STEEL GUITAR
- Asher guitars (Electro Hawaiian, "Dual Tone" Lap steel)
- Weissenborn guitars (teardrop, Canopos, Kona, Classic)

- Dart guitars (Bowl Back, Hawaiian)
- Maton guitars (custom lap steels, a ECW80 acoustic and a MS 2000 STD electric)
- Cole Clark Guitars (Fat Lady acoustic, Mistress Electric, Violap)
- The Black Lap by Rob Mondell
- Various slide and steel guitars
- 1958 Martin 00-18

- '40s Gibson LG-2 Vintage Acoustic
- Gibson J-45
- '50s Gibson J-160

- 1957 Fender sunburst Strat

- Fender Telecaster (custom shop)

- Gibson ES-335

- '50s Gibson Les Paul Junior

- '50s Gibson Melody Maker

- Gibson Double neck (6-string/12-string)
- Gibson EDS-1275 Double neck



- Gibson '56 Les Paul Special (singlecut, TV yellow)

- Fraulini 12-string



Amps and Cabinets
- Dumble Overdrive Special and a Dumble 1x12(has a variety of these from different years - 80's, 70's, and new)
- Demeter 100 watt head TGA-2 and Demeter 4x10 and 2x12 cabinets
- '50s Fender tweed Bassman
- 1969 Marshall 100-watt amp head

- Marshall Cabinet

- Roccaforte HG100 Amp and Roccaforte 2x12 cabinet
- Custom built Roccaforte non master 100 watt head


Effects and More
- Seymour Duncan '59 pickups

- Sunrise pickups
- Seymour Duncan Mag Mic

- Ibanez TS808 Tube Screamer (also uses Maxon)

- Vox V847 wah wah pedal

- Ibanez Analog Delay

- Electro-Harmonix Small Stone Phaser

- Boss compressor

- SCHEERHORN Chrome Plated Slide
- Demeter Fat control
- Demeter Tremulator
- Demeter Compulator
- Ernie Ball Volume pedal

- Dunlop Crybaby wah

- Boss TU-2 tuner

- Line 6 Echo Park pedal

- Neumann KMS 105 vocal microphone (live)

- Hermida Zendrive
- Electro-Harmonix #1 Echo

- Univox U-1093 Super-Fuzz
- Budda Budwah (older version)

- Zvex Super Hard-On

- Radial J48 active direct box

- Scheerhorn steel slide bar
Strings
- D'Addario EJ16 light-gauge phosphor bronze strings (acoustic guitars)

- D'Addario EJ17 medium-gauge phosphor bronze strings (lapsteel)

- D'Addario EXL115 Strings for Electric Guitar