Details

Category: Who Plays What
Last Updated on Thursday, 09 January 2014 15:28
Published on Monday, 14 January 2008 07:47
Dan Donegan is a musician and guitarist for the rock band Disturbed. Donegan began playing guitar as a teenager and eventually formed a band called Vandal, which was an '80s-style hair band.

Let's look at what gear and equipment has been seen in Disturbed's Dan Donegan's Guitar Rig.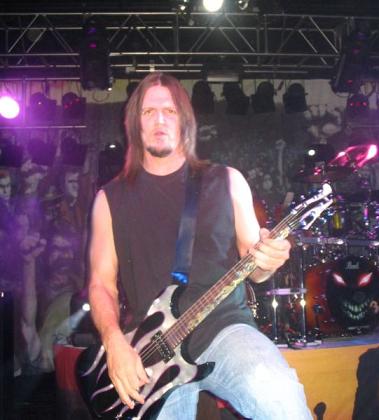 Click the gear images for more info & specs at Musician's Friend
Guitars
- Schecter Dan Donegan Ultra Signature Electric Guitar

- Washburn Dan Donegan Maya guitars
- Paul Reed Smith Tremonti Model

- PRS Singlecut
- Gibson Les Paul Standards
- Gibson SG Standards
- Schecter solo 6 custom

Amps and Cabinets
- Egnater Armageddon head and the Armageddon straight cab

- Randall Amplifiers and Randall RM4 preamp with modules (loaded with blackface, SL+, clean and 1086 MTS Modules. Note the 1086 is his signature preamp module)
- Randall RT2/50 power amps
- Randall R412XLT cabinets loaded with Celestion Vintage 30's (one is in an iso cabinet)
- Randall RM100C combo amp
- Mesa/Boogie Triple Recto heads
- Bogner Ecstacy amp

- Marshalls
Effects and more
- Digitech Dan Donegan "The Weapon" pedal
- Digitech Whammy Pedal

- Digitech Metal Master distortion pedal

- BOSS PH-2 Super Phaser

- Dunlop Crybaby Dimebag Crybaby Wah from Hell (as seen in studio footage)

- Ernie Ball Volume pedal

- BBE Sonic Maximizer

- Digital Music Corp Ground Control Pro



- Digital Music Corp GCX Audio Switcher

- MXR EVH Phase 90

- Shure wireless
-Morley Bad Horsie Wah

- Voodoo Lab Superfuzz

- Digitech Genesis
- Ibanez Tube Screamer

- Line 6 Pod XT Pro (for recording)

- Boss NS-2 pedals

- MXR Smart Gate M-135

- Digitech GSP1101 rack preamp/processor

- Furman PL-Plus Series II

- Shure UR4D wireless
- Dunlop Crybaby Rack Wah

- Korg Toneworks 411fx pedal
- Boss MT-2 Metal Zone pedal

- Way Huge Angry Troll pedal

- ISP Decimator pedals

Strings and Picks
- GHS Boomers guitar strings 12-54 gauge

- Dunlop heavy gauge picks (custom prints)