Stephen Carpenter is the lead guitarist and occasional multi-instrumentalist in Deftones.

Carpenter has a side project called Kush, featuring Christian and Raymond from Fear Factory and B-Real from Cypress Hill. Carpenter also recently formed a second side project called Sol Invicto that is described as metal meets drum and bass.

Let's look at what gear and equipment has been seen in Stephen Carpenter's Guitar Rig.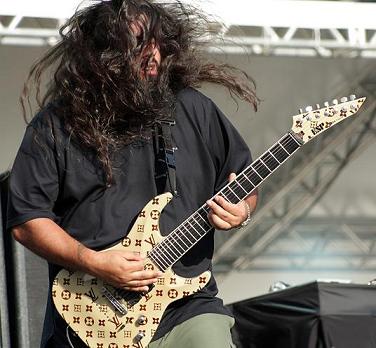 Click the gear images for more info & specs at Amazon

Guitars
 Stephen Carpenter ESP model guitars:
- ESP Stephen Carpenter 7-String Stef-7 Electric Guitar
- ESP LTD SC-608B Stephen Carpenter Baritone 8 string guitar
- ESP LTD Stephen Carpenter 7-String SC-207 Electric Guitar
- ESP LTD SC-208 Stephen Carpenter 8-String Electric Guitar
- ESP LTD SC-607B 7-String Baritone Electric Guitar


- EMG-707-85s pickups
Note: Carpenter brings tons of guitars on tour with him
Amps and Cabinets
- Marshall JCM 800 heads
- Marshall 9200 Dual MonoBlock Power Amp
- Marshall EL34 100/100 power amps
- Marshall 1960B Straight Cabinets / 4x12 (80 watt and 75 watt speakers are used in the various cabs)
Notes: He's been playing Marshalls since he began playing guitar

Effects
- Fractal Audio Axe-Fx II
- Zvex machine wah and fuzz factory
- Electro-Harmonix Bass micro synthesizer
- Boss PS-5 Super Phase Shifter
- Boss RV-3 Digital Reverb/Delay
- Boss CE-5 Chorus Ensemble
- Boss CH-1 Super Chorus
- Boss DD-3 Digital Delay
- Boss FL-2 Flanger
- Whirlwind A/B box
- Boss FZ-2 Fuzz / Boost
- Boss OC-2 Octave
- Boss TR-2 Tremolo Pan
- Rocktron All Access Midi Foot Controller
- ADA MP-1 Midi Preamp
- Korg DTR-1 Rack Tuner
- Marshall JMP-1 Midi Preamp
- Rocktron Patchmate Switcher / Router
- Rocktron Replifex Multi-FX
- Native Instruments Guitar Rig
- Line 6 POD XT Pro - "In my guitar rack I have one POD Pro so I can use it strictly for my direct signal" - Stephen Carpenter
- Furman Power Conditioner
- TC Electronic 2290 signal processor
- Ernie Ball Volume
Strings and picks
- Ernie Ball .011-.059 gauge strings
Quote: "I like my action set a bit high" - Stephen Carpenter
- 1 mm Dunlop Tortex picks (black with custom logo)