Daron Malakian is the lead guitarist in the Armenian-American band System of a Down. Malakian has written most of the band's music, and, more recently, has taken on a large share of the vocal work for the band as well. He placed 30th in Guitar World's List of "The 100 Greatest Heavy Metal Guitarists Of All Time."

Our research (8 different resources) uncovered that Malakian's rig has consisted of a variety of different gear, especially amplifers. Daron Malakian however doesn't appear to be a big pedal users - he just uses a few powerful effects that do the trick for his sound.

Let's look at what gear and equipment has been seen in Daron Malakian's Guitar Rig.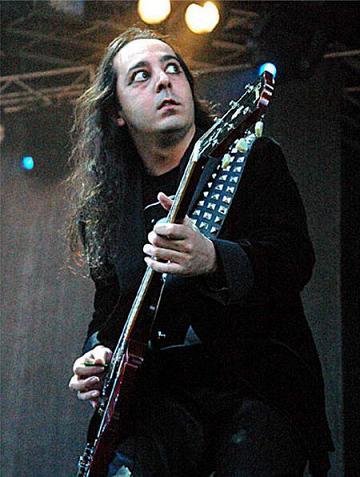 Click the gear images for info & specs at Amazon

Guitars
-Ibanez Iceman guitars:
- Custom Ibanez IC 300's and IC 200 guitars
- Ibanez ICX 120's
- Ibanez DMM-1 Daron Malakian Signature Model
- Jackson Randy Rhodes RR5
- Gibson Les Paul Standard (black)
- Gibson SG Standard (red)
- Fender Standard Stratocaster (black)
- 1962 Gibson SG (Mezmerize/Hypnotize)
- early Eighties Gibson Korina Flying Vs (Mezmerize/Hypnotize) (regular V pic below)
- 1964 Gibson SG Special (with P90 pickups)
- Fender Jazzmaster (Greek like sounds on Mezmerize/Hypnotize)
- double-neck Gibson SG
Amps and Cabinets
- Marshall MODE FOUR amplifier
- Mesa Boogie Dual and Triple Rectifier amps


- Marshall 1987X "Plexi"
- Orange Amplification
- Matchless Amplification
- Vox Amplification (not sure exact model)
- Ibanez Amplification (not sure exact model)
- Soldano Amplification
- Carvin Amplification
- Marshall MF 400 cabinets (the 1960a is pictured below - close enough!)
- Mesa Boogie Cabinets
- 100-watt Marshall JMP100 amp (Mezmerize/Hypnotize)
- Divided by 13 model FTR-37 amp (Greek like sounds on Mezmerize/Hypnotize)


Effects and other gear
- BOSS MT-2 Metal Zone (see comments - our readers think it was more likely an HM-2)
- Schaller Security Locks
- FullTone Clyde Wah Pedal
- Line 6 DL-4 Delay Modeler Looper pedal
- MXR Phase 90
- Vox wah and 2 white Boss pedals? (seen in recent pic on Systems official website)
- Boss PC-2 Percussion Synthesizer
- Voodoo Lab Pedal Power
- MSD Silvermachine Wah
- Boss DD-3 Digital Delay
- Boss DD-20 GigaDelay
- Line 6 MM4 Modulation Modeler
- SIB Electronics Mr. Delay
- Boss Chromatic Tuner pedal
- EHX Deluxe Memory Man
Strings and Picks
- Ernie Ball Skinny Top Heavy Bottom .10-.52 gauge strings (on the Ernie Ball site as endorsers)
- Ernie Ball .12-.60 Baritone strings
- Jim Dunlop Delrin Triangle .43mm & .96mm picks. In 2008 an article stated he began using the dunlop Tortex triangles instead of previous fender Triangles.