Details

Category: Who Plays What
Last Updated on Monday, 06 January 2014 20:23
Published on Thursday, 05 July 2007 18:15
Adam Dutkiewicz is a guitar player from the metalcore band Killswitch Engage. If you haven't heard of them checkout an awesome song of theirs called Rose of Sharyn. Adam attended Berklee and eventually formed Killswitch Engage in Massachuetts. Adam has produced records for Killswitch and many other bands. He's been known to work at Zing studios out in Western Massachusetts.
Let's look at what gear and equipment has been seen in Adam's guitar rig!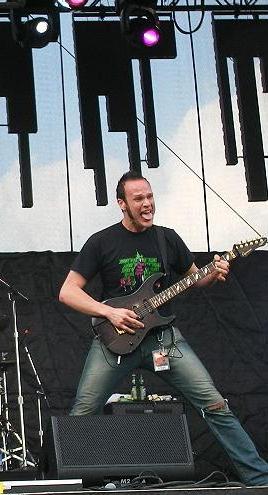 Click the gear images for more info and specs at Musician's Friend
Guitars
- EVH Wolfgang Special guitar (his appears to be black body with maple fretboard, hardtail)

- Paul Reed Smith (PRS) Custom 22 (Dragon 2 pickups. Started using PRS in 2011) (PRS 24 pic below)

- Parker Adam Dutkiewicz Signature Fly Deluxe (with EMG Pickups) and also DragonFly guitars

- Caparison PLM-3 guitars with EMG pickups (85 in the bridge, two SA single coils in the middle and neck positions)
- Caparison Dellinger-WM
- Fender Stratocaster with a Twin blade humbucker (way back)
- Framus Panthera Supreme guitar
- Schecter Diamond Series C 7
- EMG 81, 85, and 89 pickups

- Takamine black classical EC132SC acoustic-electric

- Takamine sunburst TF450SMCSB

- Takamine H8SS
Amps and Cabinets
- Laney IronHeart 120 amps into IronHeart 4x12 cabs with Celestion V30s (2012)
- Laney Ironheart 1x12 and 2x12 combos (clean tones)
- Peavey 5150 head with Mesa/Boogie cabs (as mentioned in 2011 Guitar World)
- Splawn Nitro amp (and cab loaded with Celestion Vintage 30 speakers - 2009)
- Orange Tiny Terror (used on "Take Me Away" for cleans)
- Fender Vibrolux (used on "Take Me Away" for cleans)

- Hughes and Kettner Triamps, with Mesa and Hughes & Kettner 4x12 Cabinets, both loaded with Celestian Vintage 30s (previously used)
- Framus Cobra amps and Framus cabinets
- Mesa/Boogie Roadster, Lonestar and Triple-Rectifiers amps
- EVH 5150 III head

- Peavey Classic 50 212 combo

- Egnater Renegade head

- Marshall JCM800

- Diezel VH4
Effects and More

- Maxon AD9 Delay pedal

- Sennheiser EW100 Wireless Unit
- Samson Powerbrite Pro
- Korg DTR-2000 Rack Tuner:
- Boss NS-2 noise supressor

-  Maxon OD808 Overdrive

- ISP Decimator (rack)

- Maxon CS-9 Pro Chorus pedal

- Maxon CP-9 Pro Plus Compressor pedal

- Shure SM57 mics used for cab mics

- Heil PR40 mic (used on cab with the SM57)

- Maxon RTD800

- Boss AB-2 selector pedal

- Planet Waves cables (Planet Waves site shows he uses American Stage Instrument Cables)

- Jet City JetDirect DI box
Strings
 - D'Addario EXL115 (.011–.049) strings

- D'Addario XL electric guitar strings (EXL140 according to D'Addrio's Planet Waves page for Adam)

- DR Tite-Fit Guitar strings gauge .012-.052

- Dunlop tortex picks (not sure exact model, but he said "small tortex" in the FRET12 interview)

- custom In-tune picks (1.14mm)