Details

Category: Who Plays What
Last Updated on Tuesday, 05 March 2013 22:46
Published on Sunday, 23 September 2007 17:19
Alex Lifeson is a man who needs no introduction. He is the guitar genius behind the progressive rock band Rush. Along with Geddy Lee and Neil Peart, he has wowed fans for decades with tricky and catchy songs. Seeing how Alex Lifeson is such a guitar hero, we just had to profile his guitar gear.
Let's look at what gear and equipment has been seen in Rush Alex Lifeson's Guitar Rig.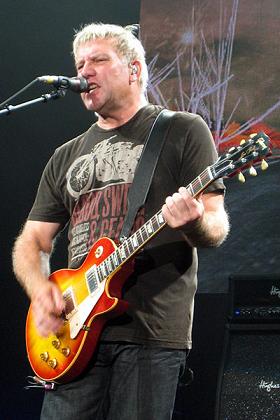 Click the gear images for more info and specs at Musician's Friend
Guitars
- Gibson Custom Alex Lifeson Les Paul Axcess Electric Guitars

- 1 Gibson Black Les Paul Custom
- 1 Black prototype Gibson Les Paul with floyd rose tremelo
- 1 Maple sunburst prototype Gibson Les Paul with floyd rose tremelo
- 1 Gold top Gibson Les Paul
- 1 Sunburst 58 reissue Gibson Les Paul with fishman piezo system
- 1 Tobacco sunburst 59 reissue Gibson Les Paul with fishman piezo system
- 1 Gibson Howard Roberts with fishman piezo system
- 1 Gibson Howard Roberts Fusion W/Fishman Tune-O-Matic Bridge

- 1 Gibson 355 stereo ( yes the original )
- 1 Garrison OM-20 Octave Mandolin
- 3 Garrison G25-12-E 12 String Acoustic Guitar
Variety of Paul Reed Smith guitars (CE models), including what the PRS website says is a recent endorsement (7/2010) of the PRS Hollowbody 12 (6 string version pic below)

- Gibson double neck EDS-1275 guitar

- Signature Guitars Aurora models
- Ovation Adonis and Classic acoustics
Amps and Cabinets
- 2 Hughes & Kettner Alex Lifeson Signature Triamp MKII Guitar Head

- 2 Hughes & Kettner Coreblade Guitar Head

- 8 Hughes & Kettner 4X12 Guitar Cabinets (H&K made an Alex Lifeson model cab)

- Marshall JMP 50-watt stack
- Marshall 4140 combos
- Marshall JCM 800

- Peavey 5150
- Hiwatt DR103 amps
Effects and more

- 1 Furman Power Conditioner PL-8

- 1 Furman PL Plus Power Conditioner

- 2 Behringer Ultralink mx-662 6 Channel Spliter/Mixer

- 4 Audio Technica AEW5200 Guitar Wireless
- 1 Audio Technica AEW-DA6600 Antenna Distribution System
- 1 Linksys Ethernet Cable/DSL Router
- 1 Toshiba Satellite PC Computer
- 1 Whirlwind A/B Box

- 3 Fishman Aura Acoustic Guitar Modeler

- 1 Custom Audio Japan AC0912 System Power Supply
- 1 Dunlop Crybaby DCR-1SR Rackmount Wah Wah

- 2 Custom Audio Japan GVCA-2 Rev.3 Midi Programmable Volume Control
- 1 TC 1210 Spatial Expander+Stereo Chorus/Flanger
- 1 Behringer XR4400 Multigate Pro

- 2 Digital Music Corp. GCX Guitar Audio Switcher

- 3 Behringer MX602 Professional Splitter/Mixer
- 4 TC Electronics G-Force

- 1 Loft Modular Device
- 2 Hughes & Kettner Rotosphere

- 5 Palmer PDI 03 Speaker Simulator

- 1 Ernie Ball 25K OHM Volume Pedal

- 1 Axess Electronics FX1 Midi Footcontroler
- 3 M Brace Acoustic Guitar Holder
-1 Ultracase Guitar Vault and an Ultracase 8 Space Guitar Stand
- DLS Effects Versa Vibe (Dave at DLS told us (9/2010) that Alex is using this on the upcoming Rush Album)

- Roland GR-500 guitar synthesizer
Strings
- Dean Markley Blue Steel Custom Lights strings (he endorses these)