Details

Category: Who Plays What
Last Updated on Monday, 06 January 2014 20:28
Published on Sunday, 23 September 2007 14:55
Tony Iommi is a guitarist best known for his tenure in the heavy metal band Black Sabbath. He is the only person to have remained in Black Sabbath throughout the band's entire lifespan. Iommi, bandmate Geezer Butler and former Black Sabbath members Ronnie James Dio and Vinny Appice, have also toured under the name Heaven and Hell.
Let's look at what gear and equipment has been seen in Tony Iommi's Guitar Rig.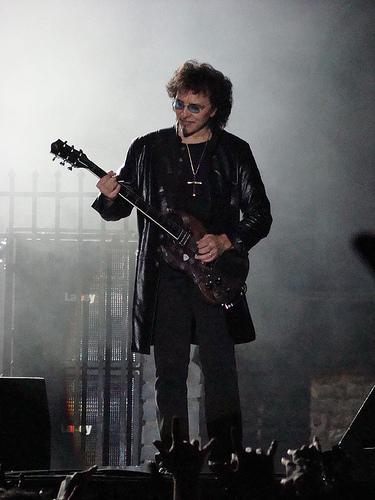 Click the gear images for more info & to specs at Musician's Friend
Guitars
- Jaydee Custom SG aka No. 1, The Old Boy
- '91 Gibson Sg (Floyd Rose, made by J.T. Riboloff)
- '97 Gibson Custom Shop SG (black - 1st Iommi signature prototype SG)
- '97 Gibson Custom Shop SG (red - 2nd Iommi signature prototype SG)
- Epiphone P94 Iommi and G-400 Iommi signature Models
- Epiphone Riviera 12 String
- Fender Stratocasters
- Gibson Barney Kessel
- Gibson Black SG Standard
- Gibson Red SG aka Monkey
- BC Rich guitars (1980's Custom BC Rich Ironbird, etc...)
- Gibson Tony Iommi Signature Pick-up

- Tony Iommi Patrick Eggle Artist Custom guitar

Amps and Cabinets
- Eddie Van Halen 5153 amp head (used in studio with WhoCares - he mentions this in the Oct 2011 Guitar world. Also seen using live)

- ENGL Powerball Head (preamp only)

- Laney Amp heads (Laney TI100 Tony Iommi model)
- Marshall JCM800

- eight Laney Tonny Iommi 4x12" cabs loaded with Celestion G12H model speakers
Effects and more
Tony's Heaven & Hell touring Effects
- Line 6 MM4

- Boss RCE-10 Chorus Ensemble
- Boss OC-3 Super Octave

- Chicago Iron Parachute Wah (Tycobrahe Para-pedal clone)
- Korg SDD-1000 Delay
- Korg DLR8000 Delay (used for chorus)
- Roland SDE-3000 Digital Delay
- MXR Flanger
- Samson UHF Synth 5 system
- Sennheiser ew 500 G2 system
- Furman rack power distribution
- Hybrid John Henry's/Backroom Buck Booster mains distribution
Here is other gear that has been seen in Tony's rig over the years
- Tycobrahe Wah Pedal
- Shure ULX Professional wireless guitar system

- Shure SM57 microphone (live guitar mic)

- Boss Over Drive

- Peavey AddVerb III Reverb
- Ernie Ball 6166 Mono Volume Pedal

- Pete Cornish Custom Foot Controller
- Digitech ME-14 Dual Equalizer
- Drawmer LX-20 Compressor
- H&H V800 Power Amplifier
- Klark Teknik DN3600 Programmable Graphic Equalizer
- Korg DTR-1 Rack Tuner
- Rocktron Guitar Silencer

- MXR stereo 15 band rack EQ

- MXR Phase 90

- AnalogMan Chorus
- DOD Octave divider
- Ibanez flanger
- Boss delay

- Jim Dunlop Rotovibe
- Jim Dunlop Univibe

 
Strings and picks
- black Dunlop picks

- La Bella guitar strings

Here are Tony's string gauges on the live guitars:

For the D# tuning,
.008p, .008p, .011p, .018w, .024w, .032w.

For the C# tuning,
.009p, .010p, .012p, .020w, .032w, .042w.


Tony's personal recording studio (aka Tone Hall) mics:
- Shure KSM 44 and Shure SM 58 for vocals
- Shure KSM 32 for drum overheads and ambience

- Shure KSM 137 for hi hats

- Shure Beta 52A and Beta 91 for bass drum (and bass guitar - 52)

- Shure Beta 98 for toms