Details

Category: Who Plays What
Last Updated on Thursday, 18 October 2012 18:05
Published on Friday, 21 September 2007 21:10
Kerry King is a guitarist, best known as one of the founding members of the thrash metal band Slayer. If you like Slayer and/or are a fan of Kerry King's, then you must be wondering what guitar gear he plays on.
Let's look at what gear and equipment has been seen in Kerry King's Guitar Rig.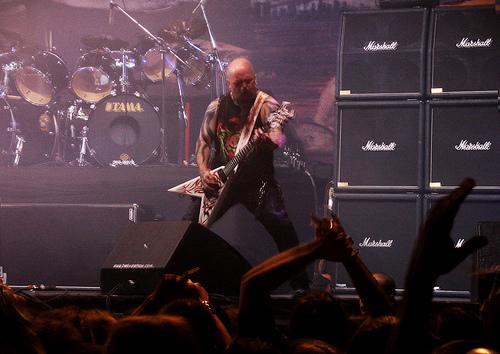 Click the gear images for more info and specs at Musician's Friend
Guitars
- B.C. Rich Kerry King V2 Generation Electric Guitar
- B.C. Rich signature KKV (his has EMG 81, EMG 85, EMG PA2 preamp booster switch, Fernandes sustainer)
- B.C. Rich signature Warlock guitar with Kahler bridge and EMGs (trans-black with tribal graphic)
- B.C. Rich Kerry King Wartribe model guitar

- B.C. Rich Metal Master Kerry King V Electric Guitar

Pickups
- EMG 81 and 85 Pick-ups with EMG Afterburner (Kerry King humbucker set)
Amps and Cabinets
- Marshall 2203KK JCM-800 Amplifiers

- Celestion G12K-100 and Vintage 30 Speakers
- Marshall 4x12" speaker cabinets with Celestion 12" speakers



Effects and more
- Fernandes Sustainer
- TKL Cases
- MXR Smart Gate Pro

- MXR KFK Kerry King 10-band EQ

- Shure UHF Wireless System
- Monster Cable

- BOSS RGE-10 Graphic Eq
- Dunlop DCR-1SR Rack Crybaby Wah

- Dunlop Q-Zone pedal
- Dunlop Zakk Wylde Signature Wah Pedal

- Dunlop Dimebag Darrell Signature Wah Pedal

- Eventide H3000S Harmonizer

- Boss RGE-10 EQ (used on World Painted Blood recording)
- MXR Wylde Black Label Chorus


Strings and picks
- Dunlop Kerry King Drop Tuning Icon Series Signature Electric Guitar Strings

- In Tune Guitar Picks